My mom, knowing that I love dyeing things and playing with fabrics sent me a link to a beautifully put together blog post on ice dyeing. This is a new technique for me so I am deep in the process of experimenting with it. I want to share what I've learned and how my project turned out.
First the original inspiration for this project. Joanna Hawley is the creator of the blog Jojotastic. In her post DIY: how to ice dye I discovered the process for this kind of dyeing.
Ice dyeing
Playing around with this technique I came up with my own process using things I had at home. If you don't normally have Procion dyes, soda ash dye fixer, and ice in your freezer, you may have to get these in order to do the project. However, the tools I've used are not exactly like those in Jojotastics's instructions, and you could probably come up with some alternatives as well.
Warning before getting started
A word of warning: all of the tools that come into contact with the dye should not be used for food afterwards. Everything should be specifically used for dying.
Tools
The tools I used for ice dyeing included:
Salad spinner
Skewers
Latex gloves
Spoon
Teaspoon
4 cup liquid measuring cup
Towel
Plastic wash tub
Metal measuring cup
Materials
Procion dye (or a fiber reactive dye)
Cotton fabric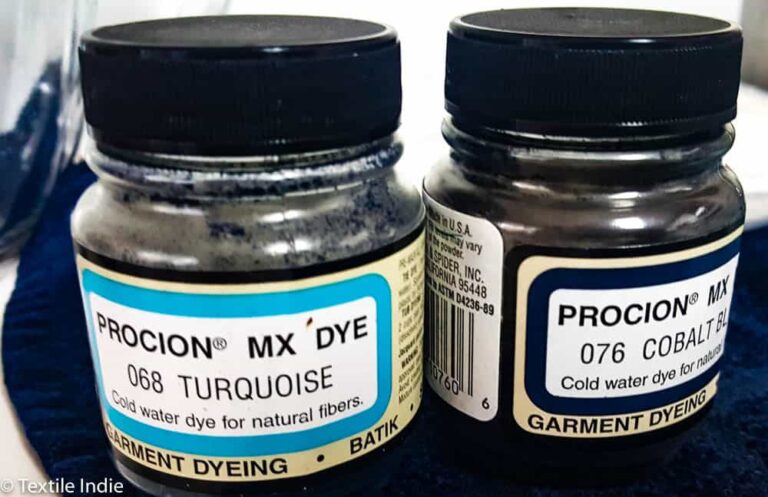 I used Procion MX dye (Cold Water Dye, 2/3 oz., Asst. Colors (set of 8))in turquoise and cobalt blue. Looking back I probably would have picked a different color than turquoise. The lightness of the color didn't create the same unique designs as the darker cobalt blue did. And the contrast between the two colors seems harsh to my eyes.
I used a Jacquard brand Soda Ash Dye Fixer (Soda Ash 1 Pound-) to treat the fabric.
How to ice dye
Treat the fabric with the required amount of Soda Ash Dye Fixer. Let the fabric sit in the tub of water/fixer mixture for 15 minutes before taking it out and squishing the excess water out.
Put the fabric on a tray that has slots in it (to allow the ice to drip through) or I used an old salad spinner bowl propped up with skewers.
Place whichever contraption you choose into the water tub.
Add the fabric.
Then place a pile of ice over the fabric.
Sprinkle dye over the ice. I sprinkled on cobalt blue, and then turquoise until the ice was practically covered.
Then allow the ice to sit on the fabric until it has completely melted.
I will tell you one thing for sure. Waiting for the ice to melt is absolutely challenging. Its definitely the hardest part of the whole project!
You need to allow the dye to sit on the fabric for 24 hours to allow it to set.
When all the ice has melted and it has sat for 24 hours (this time starts as soon as you put the dye on the ice) lift the bowl or tray out of the water tub and place in the sink.
Rinse out all excess dye. This can take awhile as the dye is essentially sitting on top of the fabric. Be patient with it and rinse until the water runs clear.
Throw your fabric pieces through a wash and dry cycle in your washer and dryer.
Video on how to ice dye
Here is a video I put together on how I did the process.
My ice dyed fabric samples
My finished pieces turned out pretty cool for a first time project.
I hope you try using this technique. It's a lot of fun and the outcome is such a surprise. Enjoy!