Do you want to learn how to weave your own baskets?
Imagine yourself creating twelve beautiful baskets as you master the traditional art of basketry.
Each month your expertise and creative expression increase as you complete one hand-crafted piece after another.
While your collection grows, you savor the feeling of relaxation and mindfulness that the rhythmic nature of basket weaving brings to your busy life.
It's not just about creating functional art – you're nurturing your well-being through this timeless tradition.
And when someone says,
"WOW! You Made That?!"
Well…that feels good too!
Join Basketry Immersion Today!
The Basketry Immersion: A Year Long Journey program includes twelve basket projects designed to teach various basket weaving techniques.
Each member begins with basket number one and works through the series to learn and practice the skills.
Join anytime, and twelve months later, you will have a twelve-basket repertoire and the skills to read a basket pattern, weave your own baskets, and even design baskets.
Embark on your basketry journey with flexible payment options. Choose 12 easy monthly installments or opt for our annual plan to receive 2 months free!
Invest in your craft and save with our yearly option!
12 Months of Baskets
Learn to weave baskets; no experience is necessary.
The Basketry Immersion program is designed so that each month builds on the skills and techniques of the previous month's project.
Cross-Stitch Napkin Basket
Colorful Market Basket
Built-in-Handle Storage Basket
Hanging Flower Vase Baskets
Bean Pot Basket
Cathead Basket
Braided Swing Handled Market Basket
Coffee Table Tray Basket
Small Melon Basket
Randed Tote Basket
Twill Storage Basket
Stair-Step Vase Basket
What is the Basketry Immersion
This is a program for basketry enthusiasts.
Join the Basketry Immersion and receive a new basket design each month.
New members begin at the beginning and work their way through the 12 basket designs along with all other members. This means that members may be working on different baskets simultaneously.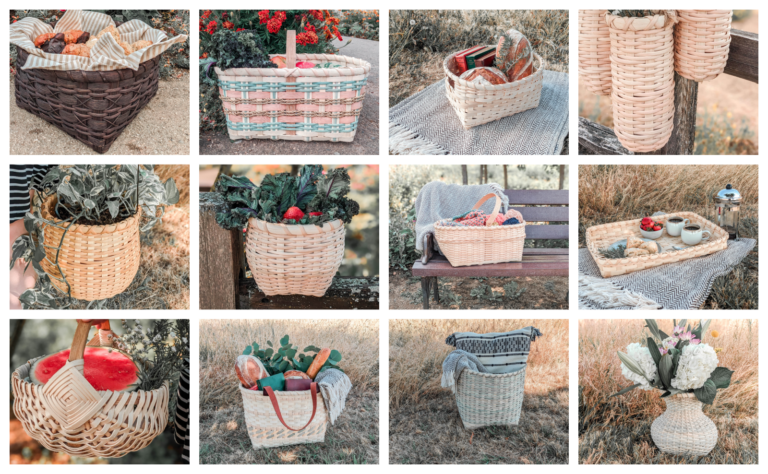 What you receive:
Full-Color Basket Pattern Instruction Guide
The pattern will include the following elements:
🧺Materials list
🧺 Tools list
🧺Cut list (lengths of stakes and other basket elements)
🧺Outline of the basket weaving process
🧺Written directions on how to weave the basket with photos demonstrating each step.
Basket Weavers Guide
The PDF Basket Weavers Guide includes:
🔍Basket weaving glossary
🔍Rattan basket materials guide
🔍Weaving technique photo guide
🔍Basket weaving tools guide
Video Tutorial
🎥You will receive the link to a private video tutorial covering the steps to weave each month's basket.
🎥The video is shot from multiple angles as I walk you step-by-step through the weaving process.
Weekly Email Tips, and Inspiration
📧We want to do everything we can to help you succeed on this journey.
📧In addition, to your monthly basket instruction email, you will also hear from us weekly.
📧Each email is packed with helpful tips, creative inspiration, resources, and sometimes discounts!
📧You may be weaving in the privacy of your own home, but you're not alone.
Monthly Private YouTube Live Session with Brittany
Once a month you can join Brittany on a private YouTube Live session and work alongside her.
The Live videos give you a scheduled time to sit down and work on your weaving. You may not be working on the same basket as Brittany, but you can work in camaraderie with other weavers around the world – and get that basket done!
You will have the opportunity to ask questions in the chat, and Brittany will do her best to answer.
If you can make it to the scheduled Live session, they will be recorded and available to members to replay.
And before you ask, the Live session will be scheduled at a different day and time each month. You are welcome to make a time/day request, and we will do our best to accommodate.
How to sign up and get started today?
Sign up for the Basketry Immersion using the button below.
Join now and get your first basket lesson delivered to your inbox in minutes.
2. Once you sign up, you are added to an email list, and receive a new basket pattern monthly.
(Example: You join the Basketry Immersion: A Year Long Journey on March 11th, you will receive an email with your first basket design download file within minutes. You will receive your next basket design download 30 days later, continuing each month for one year.
Please note that you will be receiving the basket pattern, guidebook, and video link by EMAIL.
3. The program is designed to start with basket one and work your way through a series of baskets. It doesn't matter when you join; you will start at the beginning and grow your basket collection and weaving skills month by month at your pace.
This is great for beginners and more advanced basket weavers who want to join a fun basket-weaving challenge.
4. Corresponding kits can be found in the Textile Indie Supplies shop. Links to the kits will be available in each month's email. Kits are not included with the membership.
The Twelve Baskets
Basket #1
Cross-Stitched Napkin Basket
Designed to hold napkins or serve as a bread basket.
Square, open-based basket with cross-stitch embellishment woven into the walls. Learn all the techniques and steps to dive into this basket.
Dimensions: 9-inch x 9-inch base, 7-inch tall
Basket #2
Colorful Market Basket
Multi-color market basket. Using a two-tone stake technique to add stripes. Open base, plain weave with a pattern of differing reed widths and dyed reed. It's finished with a basic lashed rim.
Dimensions: 8-inch x 12-inch base, 7-inch tall walls, 12-inch tall handle.
Basket #3
Built-in-Handle Storage Basket
Closed base basket using the chicken feet method. Twill woven walls with side handles built into the basket walls. A layered rim with a seagrass insert finished with basic lashing.
Dimensions: 12-inch x 9-inch base, 10-inch tall.
Basket #4
Hanging Flower Vase Baskets
Criss-cross open base baskets are woven in plain weave with a stair-step pattern. Tension determines the shape. Finished with an x-lashing.
The instructions for this basket include one style of hanging vase basket while discussing a variety of other shapes to achieve the following (left to right in the photo) straight sides, fluted, and vase-shaped.
Dimensions: 3-inch wide base, differing widths, 8 or 12 inches tall. Made to fit a standard mason jar to hold bouquets.
Basket #5
Bean Pot Basket
Twined round base. Stair-step continuous woven walls. Finished with an x-lashed rim and a wire handle.
This is a classic basket shape historically used when shelling beans. It's a great basket for a planter, shopping basket, storage, or Easter basket.
Dimensions: 9-inch base, 8-inch opening, 10-inches tall
Basket #6
Cathead Basket
Open base worked in a cathead style to create four "feet." Woven in a start-stop weave with a basic lashed rim.
Dimensions: 9-inch base, 10-inch opening.
Basket #7
Braided Swing-Handle Market Basket
Closed base basket worked with chicken feet. Start-stop woven walls. A braid motif is worked into the wall using six reed strands. Swing handled with an x-lashed rim.
Dimensions: 14-inch x 12-inch, 16-inch tall handle when standing straight.
Basket #8
Coffee Table Tray Basket
A closed base basket worked with chicken feet. Short, straight-sided walls frame the tray of the basket. Finished with an x-lashed rim.
Set this on your coffee table to hold a vase of flowers and your remotes or as a centerpiece on your dining room table.
Dimensions: 20-inches x 14-inches x 3-inches
Basket #9
Small Melon Basket
A small ribbed basket worked over two round hoops.
This is a great basket for home decor, garden harvesting, farmers market shopping, or gift basket.
Dimensions: 10 inches in diameter.
Basket #10
Randed Tote Basket
This handled tote basket can be used as a purse or shopping bag.
A closed base, twining, and randing in the walls, with inserted handles.
Dimensions: 16-inch x 8-inch base. Opening expands out as you weave; dimensions will vary depending on tension and desired outcome.
Basket #11
Twill Storage Basket
Woven with an open base and a variegated twill pattern.
Dimensions: 14-inch square base. The opening is 16 inches in diameter. It is 14.5 inches tall.
Basket #12
Stair-Step Vase Basket
This is the culmination of the skills learned throughout the program. It starts with an open cathead base. The body of the basket is built with a play of tension and ease.
Dimensions: 5-inch base. The basket's body will depend on the tension and ease of weaving.