A month of Shiobori projects to try!
There's something mesmerizing about the art of Shibori dyeing.
The transformation of the fabric through dye into intricate patterns is simply satisfying.
Venturing into the world of Shibori can be a bit daunting, but it's actually an approachable craft. There are Shibori projects tailored for beginners, and the more you learn, the more deeply rewarding your designs will become.
Choose one of the 31 projects below and start turning plain white fabrics into beautiful one-of-a-kind Shibori creations.
Categories:
Wearables
1. Dress
I love this upcycle. It's a great way to update an outdated piece of clothing, cover stains, or add something fresh to your wardrobe.
2. Swimsuit cover-up
Turn a men's cotton shirt or a plain white piece from the discount store into something special. And by using the Rit dyes, you can match the color to your swimsuit.
3. Tank top
Darling! Dress up a plain cotton tank for a fresh summer look.
4. T-Shirt
These indigo-dyed tees elevate the classic psychedelic tie-dye.
5. Shibori button-down
Another gorgeous upcycle. Hit your favorite thrift store and pick up a couple of shirts to experiment with.
6. Skirt
This skirt is gorgeous. The mixed patterns and nod to quilting make this a one-of-a-kind piece.
7. Scarf
Perfect way to dip (ha!) your toe in the Shibori pot. Inexpensive muslin will allow you to experiment with a variety of techniques.
8. Tote bag
A darling project and kid-friendly if you want to introduce your favorite sidekick to Shibori.
9. Clutch
Cute and useful. These also make great gifts.
For the home
10. Pillow
Add something unique and handmade to your home with a custom-dyed pillow.
11. Embroidery hoop wall hanging
This is a fun project – plus you can use scraps from your other Shibori projects. I suggest making a series.
12. Quilt
The ultimate way to show off your favorite Shibori experiments! This quilt makes me swoon!
13. Pillowcases
Like the throw pillows above, dyeing your linen is a satisfying project.
"Why yes, I did make this."
14. Duvet cover
Creating an indigo-dyed duvet cover has been on my list for a long time. This summer, I spent time experimenting with indigo dye. I'm happy with the results. So is Phoebe:)
15. Chair or bench cushions
Sometimes finding the perfect cushion for your patio bench or breakfast room chairs is hard. Make your own for a custom look.
16. Table runner
A classy take on tie-dyed table linens. This would be perfect on an outdoor table.
17. Tablecloth
I have a similar linen lace tablecloth with so many stains I've given up using it. I love this idea to add vibrant color and bring it back to life.
18. Napkins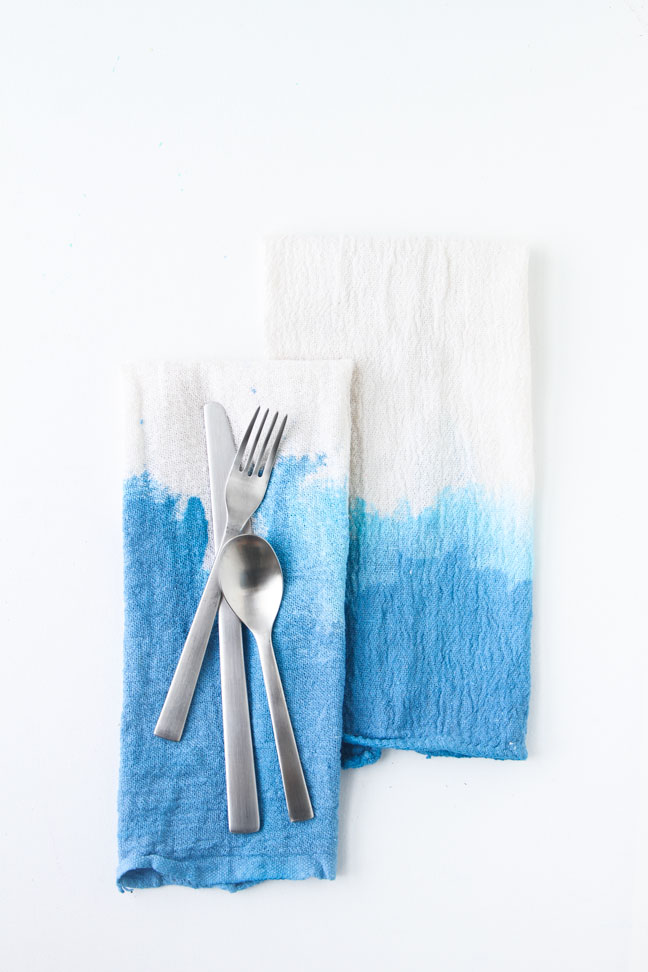 Like the scarf above, these muslin napkins are inexpensive, and you can experiment endlessly with tie patterns.
19. Placemats
Imagine these with white dinnerware or bright yellow Fiesta Ware.
20. Picnic blanket
Like my duvet above, this project is more of a commitment, but it will serve you for years of picnic memories – possibly a lifetime.
21. Tea towels
Indigo is stunning against wood cabinetry. If you have a wood-toned kitchen add a pop of color with these beauties.
22. Shower curtain
Another example of making something for your home instead of settling for what you find at the local discount store.
For baby
23. Receiving blanket
Another muslin project, make a stack of these for the next baby in your life. These would also make great sarong/swim cover-ups.
24. Matching dresses
Mommy-and-me dresses. You can expand on the idea and make a dress or shirt for the entire family.
25. Kids clothes
A fun way to add something unique to your child's wardrobe. Overdyeing is a time-honored way to breath life into stained clothes. And if you have kiddos, you have stains. Save that white shirt that white shirt that lasted about 5 minutes!
26. Baby Onesies
Darling. We dyed onesies at my sister's baby shower. I purchased them in a variety of sizes, and the guests wrote their names on the tags. My nephew had a new handcrafted onesie every month for a year.
Bonus techniques
27. Snowflakes
You can use this folding technique on any of the projects above. I suggest one of the inexpensive muslin projects to begin with.
28. Snowflake Mandala
Another gorgeous folding project. This panel would make a beautiful tapestry, as suggested. You could also use it as a table covering or swim cover-up.
29. Tenugui
A beautifully layered technique to make the building blocks for another project – quilt square, pillows, tote bags…
30. Shibori images
Learn to create recognizable shapes with this technique.
31. PVC pipe
How to use PVC pipe to expand your dye technique. An inexpensive way to have even more fun with Shibori.
Shibori dyeing questions
What are the six major shibori techniques?
Kanoko (Tie-Dye): In Western terminology, this technique is often referred to as tie-dye. Kanoko involves binding specific sections of the fabric using thread, resulting in intricate patterns when dyed.
Miura (Looped Binding): Miura, also known as looped binding, utilizes a hooked needle to pluck sections of fabric. These sections are then looped with thread, creating tension that holds them in place. This technique produces designs that resemble the movement of water.
Kumo (Spiderweb Pleating): Kumo is a pleated and bound resist technique. Sections of fabric are precisely and evenly pleated, creating a pattern reminiscent of a spider's web.
Nui (Stitched Shibori): Nui involves stitching the fabric to create gathers. A running stitch is pulled tightly, and a dowel is often used to achieve the desired tension. This meticulous technique offers a high level of design control, making it the most time-consuming of the shibori methods.
Arashi (Pole-Wrapping): Also known as pole-wrapping, Arashi entails diagonally wrapping the fabric around a pole. A thread is then wound around the bundled fabric in a spiral along the length of the pole. The resulting pattern resembles a diagonal rainstorm, with "arashi" meaning "storm" in Japanese.
Itajime (Shaped-Resist): Itajime is a shaped-resist technique that involves sandwiching the fabric between two pieces of wood secured with string. This folding method creates a repeating pattern of resist, resulting in striking designs.
What is the best dye for shibori?
[can you put your favorite dye here, explain why, and use an affiliate link]
What is the difference between tie dye and shibori?
Shibori dyeing and tie-dyeing are both fabric dyeing techniques that involve manipulating the fabric to create unique and colorful patterns, but they have some distinct differences.
Shibori dyeing is a traditional Japanese resist dyeing technique that dates back centuries. It's all about creating intricate patterns by strategically folding, pleating, stitching, or binding the fabric before dyeing it. This creates beautifully intricate and precise patterns that can range from delicate and intricate to bold and striking. Shibori often involves more intricate folding and binding techniques compared to tie-dyeing.
On the other hand, tie-dyeing is a more free-spirited and contemporary approach. In tie-dyeing, you typically gather sections of fabric and tie them tightly with rubber bands or strings before applying the dye. The tied sections resist the dye, creating a more organic and random pattern when the dye is applied. The result is often a burst of vibrant colors in a more unstructured and casual manner compared to Shibori.
So, in a nutshell, shibori focuses on precision and intricate patterns through controlled techniques like folding and stitching, while tie-dyeing embraces a more carefree and spontaneous style, relying on the way the dye interacts with the fabric when it's tied up.
What is the difference between batik and shibori?
Batik is another distinct fabric dyeing technique that has its own characteristics. Unlike shibori and tie-dyeing, which involve manipulating the fabric before dyeing, batik is a process that involves applying wax to the fabric to create patterns and designs before dyeing.
In batik, melted wax is applied to the fabric using various tools like brushes or stamps. The wax acts as a resist, creating a barrier that prevents the dye from penetrating the areas it covers. After the wax is applied, the fabric is then dyed. The dyed areas are absorbed by the fabric, while the waxed areas remain undyed. Once the dyeing is complete, the wax is removed, revealing the contrast between the dyed and undyed areas.
This process allows for intricate designs and complex patterns to be created on the fabric. Batik is known for its detailed and often symbolic motifs. It's a versatile technique that can be used to create bold and delicate patterns, and it's been practiced in various cultures worldwide, including Indonesia, where it originated.
Does Shibori have to be blue?
Traditional Shibori uses true indigo, which is made with soaked and fermented indiogofera tinctoria leaves. The blue color has historical and cultural significance.
Modern Shibori dyers often use a variety of colors.
I hope you enjoy these 31 vibrant Shibori projects.
As you continue exploring this craft's possibilities, remember to embrace imperfections. No Shibori project will even come out exactly the same – every time it's a surprise.