While natural dyeing uses natural materials to create colors to stain or dye textiles there are still some necessary precautions for health and safety.
Work in a ventilated area
Wear protective gear: mask, gloves…
Use separate equipment for eating and dyeing
Be prepared for each step
Caution around heat sources
Wash hands
Guide to Natural Dyeing Safety
There are a few safety precautions to consider when natural dyeing. Using powders, mordants and hot water can be dangerous if caution is not taken and safety considered.
Below we will go over the safety things to consider when naturally dyeing. Many of these just take common sense, others may take some forethought to prepare for and avoid delayed health issues, like wearing a mask when working with powders.
Natural dyeing safety
Natural dyeing safety
Working with powders
When working with powdered dyes, mordants, assistants and other dyeing powders wear a dust mask and consider wearing safety glasses.
It is not good for your health to breathe in these different powders.
Also work in an area that doesn't have a breeze going through it. Powders blowing around as you are measuring them out is frustrating and more likely to cause you to breathe them in.
Ventilation
While you don't want a breeze through your work area when measuring out powdered dyes and mordants, having good air filtration is important for other aspects of the dyeing process. When you are extracting dye overheat and anytime you have anything on the stove.
Working outdoors is a great option if you have a cookstove or an outdoor burner.
If you are working indoors turning on the stove fan, setting up an additional fan in the kitchen, and opening a window to allow fresh air in will help push smells and steam outside.
Separate equipment
Use separate pots and equipment for natural dyeing. You don't want to dye and cook meals in the same pots and dishes.
While natural dyeing does involve natural materials that often are not harmful, there is still the use of mordants and potentially poisonous plant parts that could cause health issues if cross-contaminated. 
Store your dye equipment somewhere other than with your cooking equipment. Clearly label everything with "dye" or another label that clearly identifies it.
Prepare questionable dyes outside
Again, working outside is a great way to eliminate fumes and issues inside. If you are using a plant that has a strong smell or you're not sure about its toxicity, I highly recommend going through the process outside.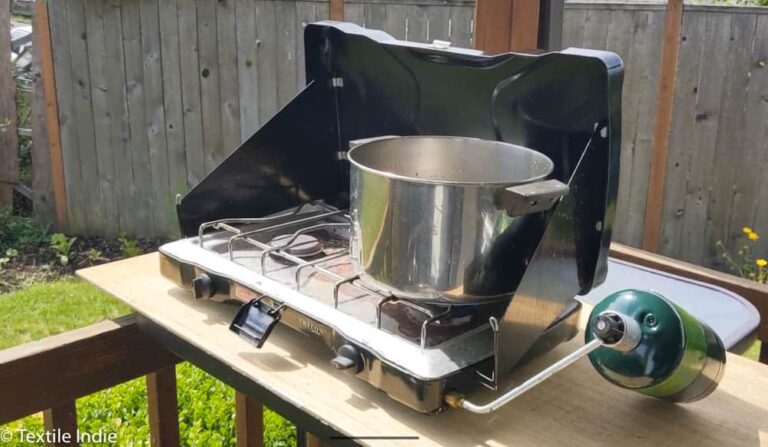 Wear protective gear when natural dyeing
I'm being kind of silly when I say this, but dressing like you're in a science lab will eliminate any potential health issues and injuries.
Wear a dust mask
Wear a dust mask while working with mordants and other powdered substances.
Always wear a dust mask when measuring out mordants, powdered dye, and concentrates. The particles get in the air and cause respiratory problems. A dust mask solves this issue. 
Once the powders are stirred into the water they will not be blowing in the air. It's up to your own discretion whether you wear the dust mask through the entire heating process or not.
Wear rubber gloves
When working with mordant baths, it is advisable to wear gloves and thoroughly wash your hands or skin whenever the mordant bath splashes onto you. 
I have never had any kind of skin reaction to alum, or iron water, and I've had my bare hands in the baths to quickly grab bundles of fiber. But I would not suggest this as a regular occurrence. There is potential that you could have a skin reaction and it's generally just not a good idea to expose yourself to metal salts.
Wearing gloves to remove dyed fiber from dye baths, especially with very potent dye baths will keep your hands from changing color.
Wear an apron
To protect your clothes wear a waterproof apron.
Be prepared for each step
Have all your materials laid out and prepared. Avoid the stress of scrambling to find a material or piece of equipment right when you need it by thinking through the process ahead of time.
Wash skin whenever you get splashed with dye
When dyeing, there is a high likelihood that you will get splashed with dye liquid. Consider wearing old clothes or a waterproof apron to avoid ruining your nice clothing. Also, dye liquid is often scalding, if not boiling. Be aware and cautious when working around your dye pots. 
Working with heat
And be aware of heat source safety. Working with burners, stoves, boiling water, and dye baths require common sense and caution. 
Natural dyeing safety equipment
What to do with your mordant and dye baths when you're done
Disposing of mordant baths safely
When you have completed using a mordant bath or a dye bath, you need to dispose of it. For mordant baths that have alum or iron (or other metal mordants), dispose of the bath by dumping the excess water onto gravel or another location away from the soil. The mordants in the water make it toxic enough that you wouldn't want to water your veggie garden with it.
Another option is to further strip the mordant bath of the mordant salts to make it less toxic to the environment – exhaust the mordant bath.
To exhaust the bath use it a second time just like you did for the original mordant bath. Don't add more mordant, just add in more fiber and bring up the heat. Follow the mordanting instructions. Then after you have removed the second batch of fiber you can dispose of the water outdoors. There will be little mordant left in the water, decreasing its toxicity.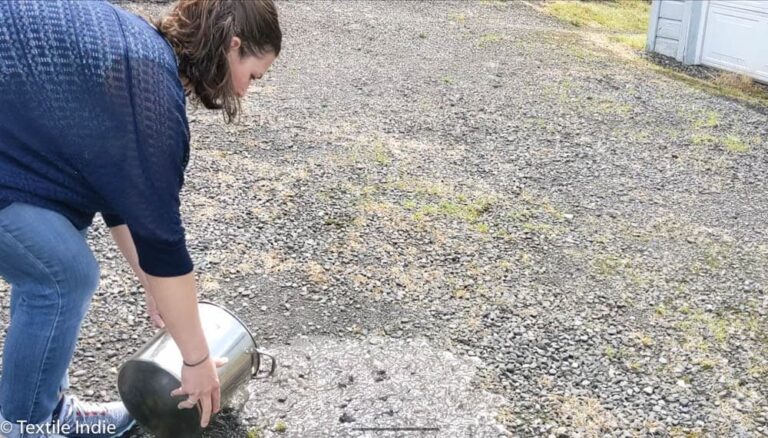 Disposing of dye baths safely
Natural dye baths are typically non-toxic and can be emptied down the drain. I often end up dumping mine in my flower garden, though I don't suggest dumping it in your vegetable garden. It's probably fine, but better to be cautious. 
Summary
Work in a well-ventilated area away from a breeze
Wear a mask when working with powders
Use separate equipment for dyeing and cooking
Wear protective equipment: mask, apron, rubber gloves, when handling dye materials
Prepare for each step ahead of time
Wash skin whenever you get splashed
Use common sense when working with heat
Dispose of mordant and dye baths appropriately
More resources
How to Make Beautiful Natural Dyes: Natural Dyeing
List of Dye Yielding Plants for the Natural Dyer
Natural Dyeing Glossary: Terminology for Natural Dyers
Joybilee Farm covers the differences between chemical and natural dye toxicity.
[grid content="post" tags="150″ columns="3″ number="12″ show="image, title, more_link" slider="true" arrows="true" slidescroll="3″ dots="true"center_mode="true"]