Start basket weaving with these 7 tips:
Some links below are referral links, meaning, at no extra cost to you; we earn a commission if you make a purchase. Thank you for supporting Textile Indie in this way! See our full disclosure statement.

One: Sign up for a basket weaving class or a course
An obvious and easy way to get into basket weaving is to take a class. Having a teacher in the room to help you over the tricky bits is helpful.
Search Google for basket weaving classes in your area.
Check out local community colleges, arts and crafts schools, and the Parks and Recreation Dept. for in-person classes.
Another way to find a class or a basket teacher is to connect with local craft or fiber arts guilds. Search for guilds in your area.
If you don't have access to any of the above, another possibility is taking an online video course.
You can begin with my free Beginner Basket Weaving: Market Basket Video Course. This is a great way to get an introduction to basket weaving. And you can message me on YouTube if you have questions or problems.
For a complete guide to all Textile Indie's basket weaving posts and videos, visit the main Basket Weaving Page.
I have several basket weaving video courses available. Check out my courses.
And, if you really want to build your skills as a basket weaver, join the Textile Indie Basket-of-the-Month club.
Basket-of-the Month Club
Check out Textile Indie's self-paced basket club if you want to learn to weave beautiful baskets.
Two: Buy a basket weaving kit
Test out basket weaving using a kit so that you don't have to buy large batches of the reed.
I have kits available in the Textile Indie Supplies shop.
If you're taking one of my basket weaving courses, I make it easy for you to get started with course-specific kits.
Etsy shop: Textile Indie Supplies.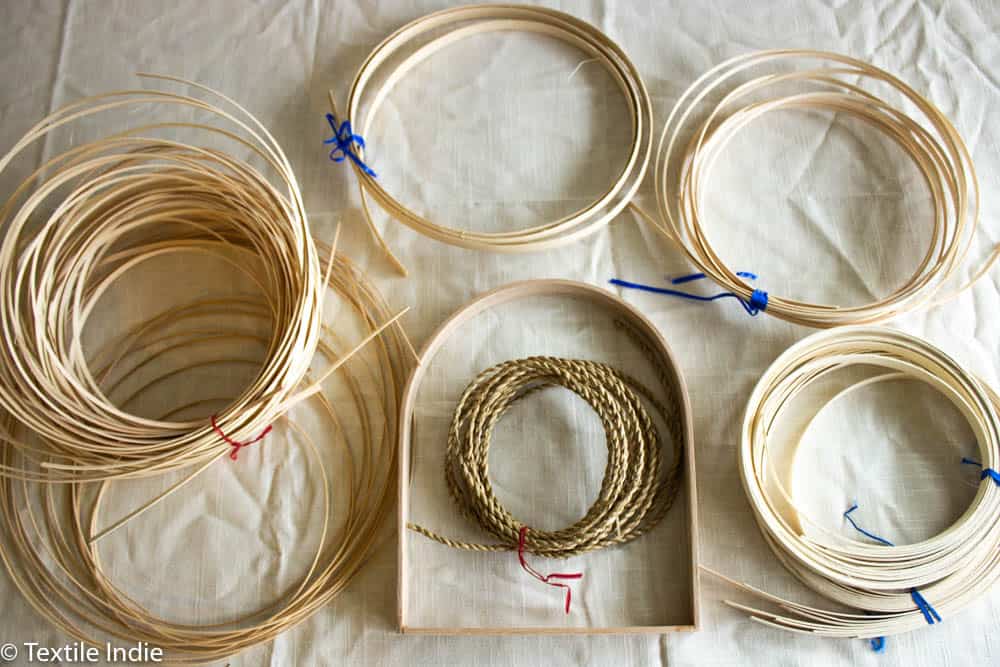 Three: Gather all basket weaving tools
Gather your tools before beginning to weave. It's much easier to have everything ready to grab when you need it than to have to run to another room to find something or stop because you don't have the tool you need.
Basket weaving tools list
Reed cutters
Stake weight
Box cutter
Metal clamps
Plastic clamps
Water tub
For a complete list of tools with more information and resources, see Basket Weaving Tools: What you Will Need to Get Started
Essential basket weaving tools
There are a few basket weaving tools that are hard to live without. These include a pair of sharp reed cutters (also referred to as reed shears), metal or plastic clamps, and a cloth measuring tape.
Very sharp kitchen shears or scissors will work for your first few baskets.
Metal or plastic clamps are easy to find at hardware stores or online.
Plastic clamps
Metal clamps
Cloth measuring tape
Cost-cutting tool alternatives
Instead of using a stake weight, an alternative is to use a hammer. It is heavy and will hold the stakes in place, accomplishing the task, though not as fancy.
Replace a straight-tipped packer with a flat head screwdriver or even a butter knife in a pinch.
If you don't have a water tub or spray bottle, you can always use the bathtub or sink to wet things down whenever they start to get dry.
There was a time when I was weaving baskets on the bathroom floor, next to the tub, because it was the most convenient way to get to the water without dripping all across the house.
Do you want the best resources, tools, and products for fiber artists?
Every other Friday, I send an email chock full of fiber craft inspiration for you to explore.
Each issue focuses on one fiber art skill – spinning, dyeing, basket weaving…
Four: Set up a basket weaving workspace
Having a workspace laid out will help with your workflow. After gathering all your tools, set up a table, workbench, floor space, or wherever you like to work.
As I mentioned, I've even sat on the floor in the bathroom and woven baskets using the toilet seat as a table because it was the most convenient water source.
I highly suggest using a table that is hip height as this will raise your work surface up to you and make it easier to weave. You can also weave sitting down. Though there will be times standing up will give you better leverage on the materials.
Watch this video on how I set up my basket weaving workspace:
Five: Start by weaving a small to medium basket
Starting with a large basket will be overwhelming and frustrating.
If you're weaving a basket for the first time, try something that's in the small to medium range. A small basket project is manageable and will encourage you with early success.
The Basket-of-the-Month Club is designed to build your skill and repertoire of techniques.
Here's a great beginners basket to get you started:
Six: Make a basket with a handle
This may seem surprising as adding another element into a basket is daunting. But weaving a small or medium basket with a 'D' handle will actually help guide the basket shape.
The handle acts as a support for two sides of the basket. Having the handle as a steady target for two walls of the basket will help to shape the other two walls.
For an explanation of a 'D' handle and other handle types, see Beginners Guide to Basket Handles.
In my free video course, I teach a handled market basket that is accessible to beginners: Beginner Basket Weaving Market Basket.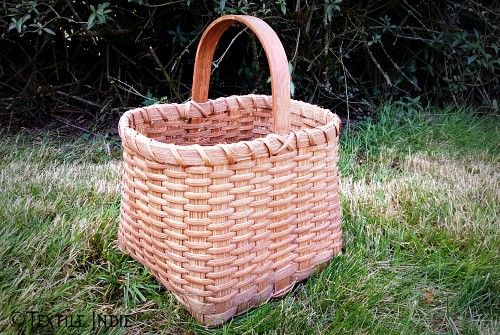 Seven: Learn a few basic basketry terms
Understanding basket-making lingo will help you follow along in a pattern, book, or course.
If you want a print version of the glossary, click the button below.
Start weaving!
Basket weaving is a practical, satisfying, and relatively inexpensive hobby.
If you want further information about basket weaving, check out our library of articles:
Textile Indie Basket Weaving posts
We are continually adding and growing our content, so stay tuned.
For a complete guide to all Textile Indie's basket weaving posts and videos, visit the main Basket Weaving Page.
Basket-of-the Month Club
Check out Textile Indie's self-paced basket club if you want to learn to weave beautiful baskets.