For a complete guide to all Textile Indie's basket weaving posts and videos, visit the main Basket Weaving Page.
There are a variety of basket handles and ways of creating and using basket handles. In this beginners guide to basket handles, we'll go over the different styles, types of baskets they are used for, and how to care for them.
For a complete list of basket terminology:
Types of basket handles
D handles
D swing handles and swing handles with button knobs
Square top, narrow top, and other shapes of D handles
Williamsburg handles
Bushel side handle
Square-top notched-carved handles
Hearth frame
Wire handles
How to choose a basket handle
Quality basket handles are usually made from oak – a strong hardwood.
D handles
A "D" handle is shaped like the letter "D." The flat edge is the base of the handle, and a curved upper serves as the grip portion.
The "D" handle is made of two pieces attached at the corners. The handle's flat base, curved sides, and upper section are joined together at the base and then glued for added sturdiness.
Note: Some basket suppliers sell 'D' handles using one-piece construction. One-piece construction is more expensive but preferable to handles joined at the corners.
When weaving with a "D" handle or using a basket with a "D" handle, be aware that the joints at the base of the handle will not carry a heavy weight.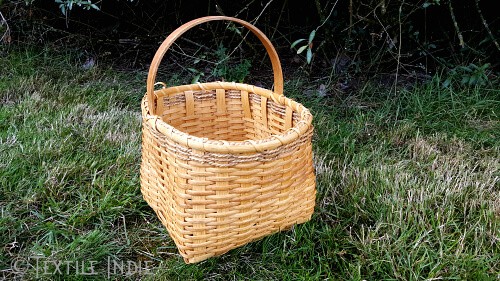 D swing handles
A "D" swing handle is a handle shaped like the letter "D", but it differs from the "D" handle described above at the point where the sides of the handle start to curve over the basket. This handle has a separate swing handle that is attached to the lower portion of the handle.
Again, these handles will need added reinforcement to carry heavy loads.
Square, narrow, and shaped D handles
'D' handles also come with variations – narrow, squared, tapered, sharp top, flat top, tulip, etc.
You will choose a handle based on the desired shape of the basket.
Williamsburg handles
A Williamsburg handle has a narrow base, flares out at the sides, and forms a rounded grip.
A Williamsburg handle is specific to Williamsburg-style baskets, a traditional New England design.
Williamsburg baskets are intended for marketing; the handle is wide and comfortable to be carried over your arm. It's a sturdy basket.
Bushel side handles
Bushel handles are typically tucked into the sides of a basket. They are woven in pairs; one handle on opposite sides of a basket.
Square-top notch-carved handles
These handles do not have a closed frame; they are open on the bottom and get tucked into the walls of the basket. There is typically a notch that tucks under a weaver in the basket wall or under the rim to hold it in the basket.
You can also find this type of handle in the swing style.
Do you want the best resources, tools, and products for fiber artists?
Every other Friday, I send an email chock full of fiber craft inspiration for you to explore.
Each issue focuses on one fiber art skill – spinning, dyeing, basket weaving…
Hearth frame
A hearth frame basket is a specific shape of basket. It's formed by using an oval hoop and two open ovals, attaching them together to form three ribs which the basket is woven around.
Hearth frames are the basket you imagine yourself carrying through an English garden, snipping flowers for a bouquet.
Wire handles
A wire handle is made of a thick wire, typically coated in a black rubber coating. These are lightweight handles and easy to bend and shape.
Some wire handles have a wooden grip at the top, which makes them more comfortable to carry.
Make your own basket handle
It's also possible to make your own handles out of a variety of materials.
This can be done with a piece of thick reed, a branch from a tree or bush, or a piece of rope or leather.
Other basket inserts
Hoops
Hoops are used in a number of different styles of baskets, like egg style and ribbed baskets.
Hoops often form the handle, spine, and rim of a basket.
Most often round, basket hoops also come in oval, square, and 'D' shapes.
Rims
Rims are often used in ribbed baskets as the structure. The basket is built around the rims. Rather than use reed around the upper portion of the basket, the rim is placed on top and woven over or around the basket.
Basket legs
Some basket styles lift the basket off the floor. This is true for a wool basket – to allow airflow around the wool. Basket legs are the solution.
These legs are woven into the corners of a square or rectangular basket to give the basket height.
Basket legs are also called; "feet", "slats", "slides", "shoes", "runners", "heels", "cleats", and "skids".
Caring for basket handles
Sanding the handle
Before you begin to weave a basket with a handle, consider sanding it smooth. Sanding brings out the texture and color of the wood, adding a natural luster to your project.
Although many basket suppliers offer 'sanded' handles, stain and sealer will adhere better if you give the wood at least a gentle once over.
Use 120 grit sandpaper on the first sanding to smooth the rough bits. Then use 220 grit sandpaper to put on the final polish.
Storing handles
Basket handles (without the structure of their basket) can be fragile.
The raw wood is also absorbent and will pick up oils and dirt.
If you have a collection of basket handles and rims to store, consider storing them in a large bin with sturdy walls and a lid. I use a Rubbermaid tub because I can stack my handles and rims in the container, and they won't get crushed or broken.
Resources for handles
Thrift stores
Keep an eye out at thrift stores for old baskets that might have handles you can repurpose.
Second-hand baskets are inexpensive and dismantled quickly. Finding specialty handles will save you a few dollars or supply your basket hobby with something unique to build a basket around.
Basket weaving suppliers
There are several basket-weaving supply companies that I have ordered from that have good-quality materials. These are not the only suppliers out there, just the ones I've used personally.
Textile Indie Shop is also a great place to find quality materials. I offer a hand-picked selection of basket kits and materials.
You can find all my recommended basket-weaving resources here.
For a complete guide to all Textile Indie's basket weaving posts and videos, visit the main Basket Weaving Page.
Beginners handled basket tutorial:
If you're excited to start weaving handled baskets, try out my Step-By-Step Guide to Weaving Handled Baskets.
Check out Textile Indie's self-paced basket program if you want to learn to weave beautiful baskets. Twelve different basket designs with video and written instructional support to learn foundational basketry techniques. Over the course of twelve months, you will receive one basket pattern and a video with supporting instructional material each month. Start at basket one and weave all twelve.