Every art form has its own set of unique tools that assist the artist in creating their pieces.
Basket weaving is no different.
However, when starting, you don't have to get all the special tools before being able to weave a basket.
I will share the tools I use when weaving baskets and some alternatives for those who want to test basket weaving before taking the full plunge.
You can find basket weaving tools and tool kits in the Textile Indie Shop.
For a complete guide to all Textile Indie's basket weaving posts and videos, visit the main Basket Weaving Page.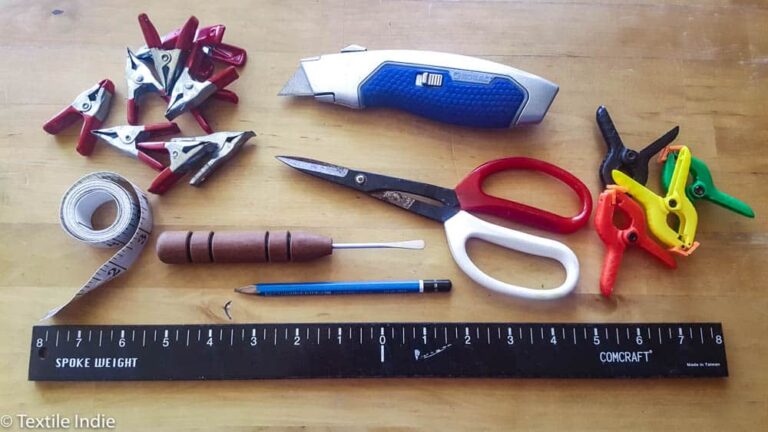 What tools are needed for basket weaving?
Here are the essential tools needed to get started in basket weaving.
If you want to get started with what you have at home, I've added alternatives in the descriptions for each tool – and a handy table at the end for quick reference.
Basket weaving tool kit
Check out the Textile Indie Shop for a tool kit that includes reed cutters, spoke weight, a straight-tipped packer, 4 metal clamps, and 4 plastic clamps.
Basketry tools and uses
Cloth measuring tape
A tape measures out stakes for basket weaving and establishes the size of the basket throughout the weaving process.
Cloth is ideal for basket weaving because of its flexibility.
Reed cutters
Reed cutters have short, sharp blades that allow good leverage on the reed when cutting it.
Kitchen shears or craft scissors work to cut reed, though they are not as sharp as reed cutters and will be harder to cut with.
Pencil
A pencil marks the center of the stakes when beginning a basket and takes notes or scores reference points throughout the weaving process.
Do you want the best resources, tools, and products for fiber artists?
Every other Friday, I send an email chock full of fiber craft inspiration for you to explore.
Each issue focuses on one fiber art skill – spinning, dyeing, basket weaving…
A spoke weight is a heavy bar used to weigh the stakes when beginning a basket.
A spoke weight is like another hand. Basket weavers often find themselves wishing for a third hand!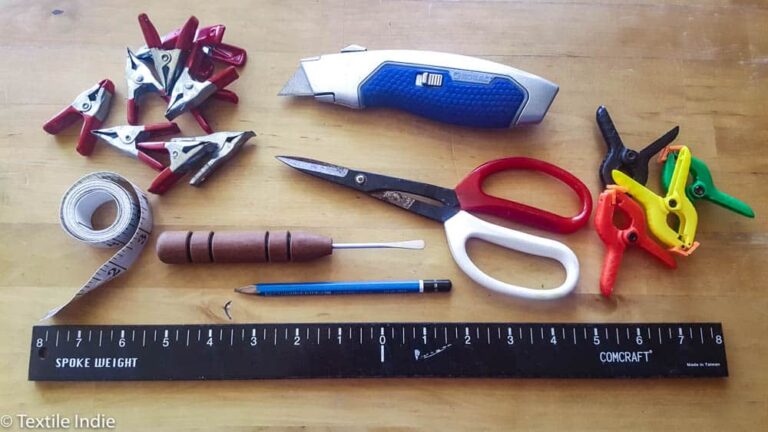 Alternative: a hammer
I have used a hammer in place of a spoke weight. The weight of the hammer head makes it a handy alternative, and the length of the handle reaches the width or length of most of the baskets I make.
It's an out-of-the-box solution, but it works.
Straight-tipped packer
I also call this a flat-tipped awl. The packer consolidates the layers of weavers down close together.
As the reed dries, it shrinks; keeping things tight will avoid gaps between weavers.
You will also use a straight-tipped packer to get between layers when setting up the rim and finishing the basket.
Alternative: flathead screwdriver
Another option is a flathead screwdriver. Or, in a pinch, a butter knife.
Box cutter or knife
Generally, a box cutter is a handy tool around the house – so I consider it a good investment.
The box cutter trims down the ends of the reed on the rim of a basket (scarfing).
Small metal clamps
You'll use clamp a lot in basket-making to hold things in place.
Metal clamps are powerful, and like the spoke weight above, clamps are like extra hands.
A quick, cheap option to substitute metal clamps could be large binder clips (office style).
Small plastic clamps
Plastic clamps are used specifically on the basket rim because they are less likely to leave grooves in the rim.
The "jaw" of a plastic clamp is the perfect shape to secure the rim.
I like to supply metal and plastic clamps at my workstation. Small clamps are inexpensive and will serve you well.
Spray bottle
A spray bottle wets the basket down as you weave to keep everything damp. Maintaining damp reed is vital so that it doesn't become dry and brittle and crack as you work with it.
Water tub
The tub is filled with warm water at the start of a basket project and is used to wet the reed before you begin weaving with it.
You can use a sink or bathtub, but that will limit where you work.
Basket tools and alternatives
Basket-weaving tool kit video
In the video below, I share the tools I use for most basket projects:
Setting up your basket weaving workspace
And this is how I set up my basket-weaving workspace:
Where to buy basket weaving tools
We've gathered essential basket-weaving supplies and tools into one convenient place; check out Textile Indie Shop.
What next?…
For a complete guide to all Textile Indie's basket weaving posts and videos, visit the main Basket Weaving Page.
Beginners Guide to Basket Weaving
Beginners Guide to Basket Weaving Materials
Beginners Guide to Basket Handles
How to Cut Reed for Basket Stakes
Step-by-Step Guide to Weaving a Handled Basket
Check out Textile Indie's self-paced basket program if you want to learn to weave beautiful baskets.
Twelve different basket designs with video and written instructional support to learn foundational basketry techniques.
Over the course of twelve months, you will receive one basket pattern and a video with supporting instructional material each month. Start at basket one and weave all twelve.