Welcome to the world of macrame wall hangings!
In this blog post, we'll explore 31 stunning macrame designs that can bring a touch of bohemian elegance to your living space. These beautiful creations offer a chance to add texture, warmth, and a handmade charm to your home.
From easy patterns for beginners to intricate designs for seasoned crafters, our selection has something for everyone.
So, grab your cords, find a comfy spot, and let's dive into the world of macrame wall hangings, where the ancient art of knotting meets modern interior design. Get ready to be inspired!
This post contains affiliate links, meaning if you click and make a purchase, we receive a small commission (at no extra cost to you). Thank you for supporting Textile Indie!
Best place to find macrame supplies:
Our favorite place to find macrame supplies is Ganxxet. Their eco-friendly, sustainable cord is of the highest quality. You'll find a wide array of beautiful colors and any diameter cord you need to complete your next project.
Textile Indie readers receive a 10% discount on all macrame supplies.
Click the button, and your discount will be applied automatically.
Or use the coupon code BRITTANYSTANTON
1. Super Simple DIY Macrame Wall Hanging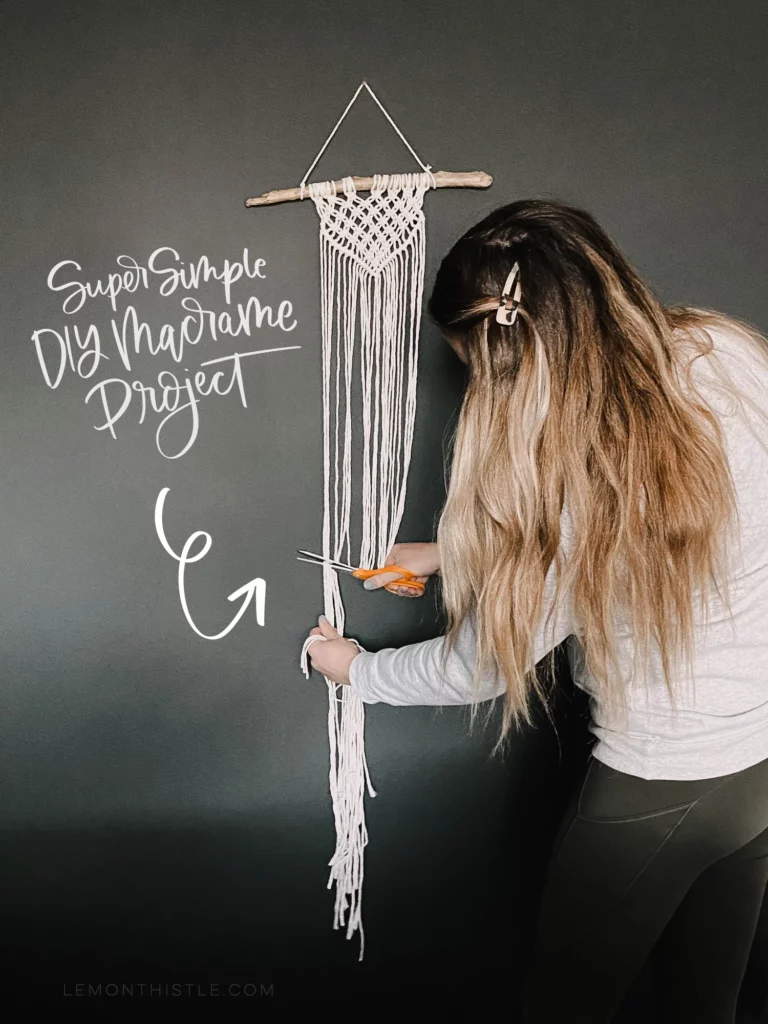 2. The Easiest Macrame Wall Hanging
3. Easy DIY Macrame Wall Hanging in 15 Minutes
4. Super Easy Macrame Rainbow Tutorial
5. Free Macrame Owl Pattern
6. Quick Macrame Hat Hanger
7. 6′ DIY Large Driftwood Macrame Wall Hanging
8. Macraweave Wall Hanging Tutorial
9. Easy Driftwood Macrame Christmas Wreath
10. Macrame Tutorial
Ganxxet is our go-to source of high-quality macrame cords, use our link and receive 10% off your order.
11. DIY Macrame Wall Hanging
12.How to Make Macrame Owl Wall Hanging
13. An Empty Wall's Best Friend: DIY Macrame Wall Hanging
14. Easy Macrame DIY: How to Make a Unicorn Dreamcatcher Tutorial
15. Macra-make a Gorgeous Macrame Wall Hanging
Macra-make a Gorgeous Macrame Wall Hanging by Brit+Co
16. Easy Macrame Wallhanging for Absolute Beginners
17. DIY Mini Macrame Wall Hanging
18. DIY Macrame Boho Mirror Tutorial
19. Macrame Wall Hanging Pattern 'Berry'
20. DIY Macrame Tutorial
21. Make Your Own Macrame Curtain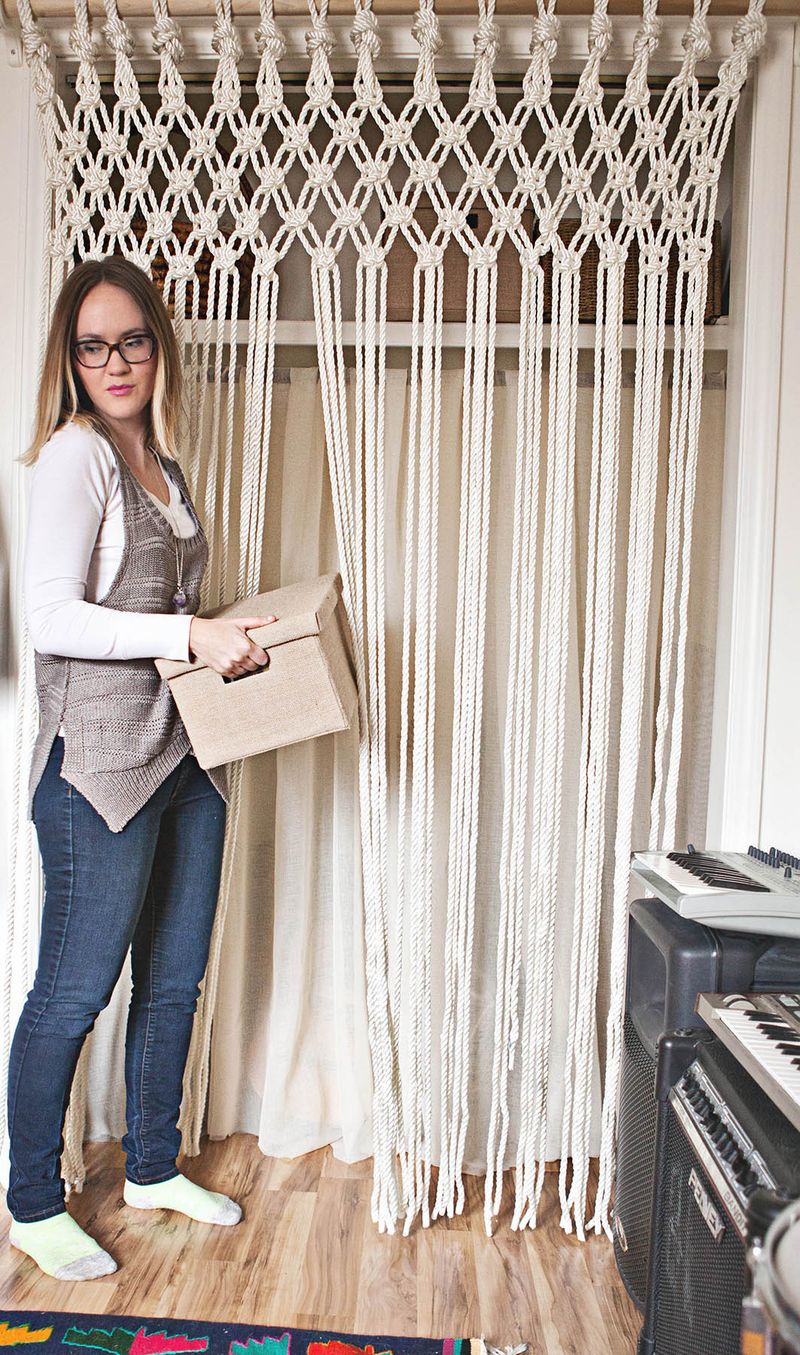 22. DIY Macrame Mandala Wall Hanging
23. Mini Macrame Air Plant Holder
24. DIY Macrame Feather Wall Hanging (Beginner)
25. Beginner Macrame Wall Hanging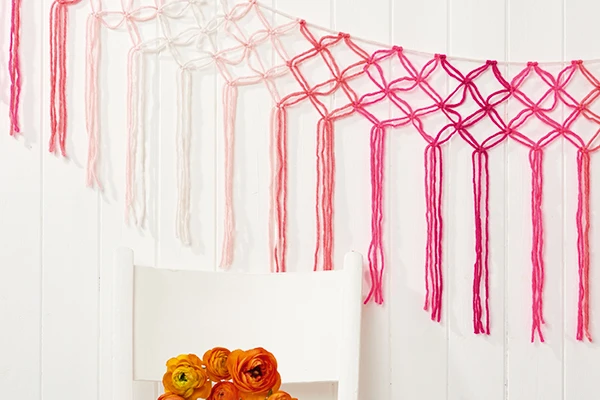 26. DIY Macrame Tutorial: 3 Feather Wall Hanging!
27. Macrame Wall Hanging for Beginners
28. Beginner Macrame Wall Hanging Using Only Square Knots, Easy and Cheap Afternoon Project
29. Trendy DIY Bohemian Macrame Mirror Wall Hanging
30. Tutorial Macrame Boho Curtain
31. Intro to Macraweaving
Intro to Macraweaving by Myth and Moss
Common questions about macrame wall hangings
1. How do I choose the right cord for my macrame project?
Choosing the right cord is crucial for the success of your macrame project. Consider these factors when selecting your cord:
Material: Macrame cords are available in various materials, including cotton, jute, hemp, and synthetic fibers. Cotton is soft and versatile, making it an excellent choice for beginners. Jute and hemp offer a more rustic look, while synthetic cords can have added durability.
Thickness: The thickness of the cord, measured in millimeters (mm), impacts the overall appearance of your project. Thicker cords create chunkier and more substantial knots, while thinner cords result in finer and more delicate designs.
Color: Choose a cord color that complements your project's aesthetics and fits your home decor. You can find cords in a wide range of colors, including natural tones and vibrant hues.
Texture: Some cords are smooth, while others are twisted or braided. Texture can add visual interest and complexity to your macrame piece.
Purpose: Consider the purpose of your macrame creation. Thicker cords work well for plant hangers or wall art, while thinner cords are suitable for jewelry or intricate designs.
2. What tools and equipment are essential for macrame?
While macrame is a relatively simple craft, having the right tools and equipment can make the process smoother. Consider these items:
Scissors: Sharp scissors are essential for cutting cords cleanly.
Tape Measure or Ruler: To ensure your cords are cut to the desired length.
Masking Tape or T-Pins: These can help secure your work in place while you knot.
Clipboard or Macrame Board: This keeps your project stable and prevents cords from tangling.
S-Hooks or Dowels: These are used for hanging your work or creating a support structure for plant hangers.
Comb or Brush: To comb out any frayed ends in your cord for a neater appearance.
Beads and Rings (Optional): If your design incorporates beads or rings, you'll need these as well.
3. Are there any eco-friendly or sustainable practices in macrame crafting?
Absolutely, you can make environmentally conscious choices in your macrame crafting:
Choose Natural Fibers: Opt for cords made from natural materials like organic cotton, hemp, or jute. These materials are biodegradable and have a lower environmental impact compared to synthetic options.
Recycle and Upcycle: Incorporate repurposed or recycled materials into your macrame projects. Old T-shirts can be cut into strips for cord, and driftwood or found objects can serve as unique supports.
Reduce Waste: Plan your projects to minimize waste. Measure and cut your cords accurately to avoid excessive leftovers.
Eco-Friendly Dyes: If you dye your cord, use eco-friendly and non-toxic dyes.
4. How do I care for and clean my macrame wall hanging over time?
To keep your macrame wall hanging looking its best, follow these care and cleaning tips:
Dust Regularly: Use a soft brush or a hairdryer on a low, cool setting to remove dust from your piece.
Spot Clean: If you notice stains or dirt, spot clean with a mild detergent, warm water, and a soft cloth. Gently blot the affected area and avoid rubbing to prevent fraying.
Avoid Direct Sunlight: Prolonged exposure to direct sunlight can cause colors to fade. Hang your macrame piece in a location with indirect or diffused sunlight.
Store Properly: If you need to store your macrame, keep it in a cool, dry place, away from moisture and pests. Rolling it around a tube can help prevent creases.