A project for every day of the month!
There's something genuinely magical about knitting.
Whether curled up on a cozy couch with a cup of tea or in a sunlit garden with chirping birds as background music, the rhythmic dance of needles and yarn can be incredibly therapeutic.
If you've ever felt the allure of a beautifully knitted scarf or the softness of a handcrafted sweater and thought, "I wish I could make that," you're in the right place!
Starting a new hobby can be both exciting and a tad overwhelming.
You don't need to dive into complex patterns right away. Plenty of beginner-friendly projects are easy to tackle and immensely satisfying to complete.
Grab your needles, and choose one of the 31 projects below to begin your knitting journey.
Categories:
Wearables
1. Cowl
Why this project?
This gorgeous cowl can be knit in any luscious color that complements your cold-weather wardrobe. It looks complicated (and impressive), but it's a perfect beginner project.
Simple knit and purl pattern
The small size makes it easy and satisfying to finish
The finished project is a showy garment😉
Button detail to express your creativity
Optional lace edging to increase your skills
2. Confetti Scarf
Why this project?
I love the rolled hem on this scarf.
Suggested colorways make this scarf customizable
Simple beginner stockinette stitch makes it a quick finish
I love the drape and the rolled hem – this scarf has je ne sais quoi!
3. Infinity Scarf
Why this project?
Infinity scarves continue to be popular. This version uses bulkier yarn and larger needles, making it fast to knit.
Quick project made with the simple stockinette stitch
Interesting pattern adds visual texture
It makes a great gift
Perfect project to teach a new knitter
4. Hat
Why this project?
There are only so many ways to knit a beginner's hat, but this one caught my eye. Love the label!
Excellent written instructions
Clear photo illustrations of each step
Simple flat method construction
Bonus pom-pom instructions
5. Hat
Why this project?
The beautiful blue color and soft, slouchy look caught my eye.
Beginner-friendly stockinette stitch
Tube construction with a "cinched top"
Simple way to practice decreasing
The hat looks great done up in a soft wool
6. How to Knit a Hat for Complete Beginners
Why this project?
The Easy Knit Hat by B. Hooked is ideal for those venturing into knitting for the first time. It promises quick completion, making it a gratifying project for beginners.
The hat can be done up in a few hours
The tutorial offers a comprehensive step-by-step walkthrough, ensuring that even those with no prior knitting experience can follow along with ease
The project recommends using the Lion Brand Wool-Ease Thick & Quick Yarn and 8 mm Circular Knitting Needles, 16″
7. Cardigan
Why this project?
This cardigan makes me wish for snowy days! It's so effortlessly chic.
Knit flat in rectangles, making this an excellent project for beginners
Making something so fun to wear is ultra-satisfying
Large needles and chunky yarn make this large project come together fast
8. Knit Your First Sweater
Why this project?
Taking the leap to knit your first sweater can be a monumental step in a knitter's journey.
This tutorial breaks down a complex project into bite-size steps
Everything you need to know from beginning to end
Add stripes or a collar to make this sweater a special, unique creation
9. Shawl
Why this project?
Promises to be the most straightforward shawl you have ever knit.
Simple stitches and a bulkier yarn make this a quick project
Practice increasing
Finish with a beautiful, cozy garment to show off your new skills
10. Easy Leg Warmers
Why this project?
How cute are these? The slouchy feel of this yarn makes these look so cozy!
Quick to knit up, making this a satisfying beginner project
Guidance on getting these to fit
Coordinate with your yoga outfit or your winter boots – add a unique and stylish accessory to your wardrobe
11. Socks
Why this project?
Socks are a knitter staple project.
This is part 1 in a 2-part series, making this a comprehensive guide to knitting socks
The materials suggested are perfect for beginners
You will build your knitting in the round skills
12. Purse
Why this project?
Simplicity and functionality make this a fun piece for beginners.
With clear instructions and a straightforward design, it's a confidence booster for novices
Put a personal spin on the color and yarn to match your wardrobe
The compact size makes this a quick project
13. How to Knit a Market Bag
Why this project?
Ideal for carrying groceries, gym essentials, or beachwear, this lightweight, eco-friendly bag is a joy to knit and use.
This project is suitable for those familiar with basic knitting techniques
Video tutorial and pattern available
The bag's design involves knitting flat initially and then transitioning to knitting in the round, resulting in a fulfilling construction
14. Fingerless Gloves
Why this project?
If you're interested in learning to knit, Norman's website, Nimble Needles, is a must-stop. The photography is gorgeous, and tutorials are easy to follow.
Gloves are a satisfying project that makes you feel like a real knitter
Wear them to keep your wrists warm and healthy while you knit
Deceivenly simple, using a knit and purl stitch
Practice customizing a garment pattern with measurements
15. Knitted Boot Cuffs
Why this project?
Add a touch of panache to your winter wardrobe.
The ribbed texture is flexible but snug
Match yarn and color to your outerwear for a custom look
Add personality with unique buttons or charms
16. Headband
Why this project?
The twist front is fashionable and functional, making this a chic and valuable accessory.
The pattern allows you to choose a color and yarn variation that suits your style
The headband makes a thoughtful and unique gift
Quick and easy to do up, and you have something to show off!
Great gifts
17. Ornaments
Why this project?
Well, 25 projects, to be exact. This round-up is a fun and varied compilation.
Small projects are satisfying to complete
A wide variety of techniques
Expand your skills fast without committing to a massive project
Make thoughtful gifts
Endless possibilities for customizing the look
18. Bookmark
Why this project?
It doesn't get much simpler than this. If you've knit all the dishcloths and coasters, you can take, switch it up, and make bookmarks!
Great gift or stocking stuffer
Fabulous, fun way to use up bits of yarn
Experiment with colorways before committing to a large project
Fun tassel instructions
For the home
19. Dishcloth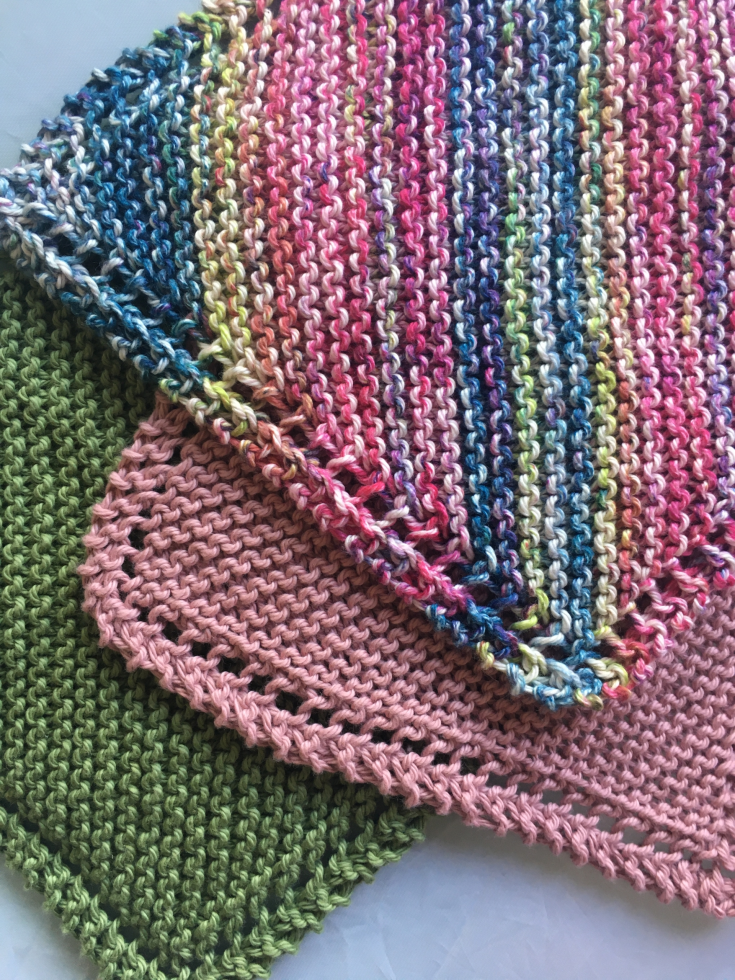 Why this project?
I'm a little obsessed with knit dishcloths; Brittany has been knitting them for me since she was 6 years old.
There are oodles of dishcloth tutorials on the internet – why Six Clever Sisters? I was drawn to the bright colors and the easy-to-follow tutorial photos.
Super fast and simple way to practice new stitches
Use up bits of yarn left from other projects
Endlessly useful
Add style and color to a mundane task
20. Coasters
Why this project?
The Easy Knit Coaster pattern offers a unique and practical way to create coasters using kitchen string, also known as butchers' or bakers' twine.
The tutorial is designed with beginners in mind, guiding them through every step of the process, from casting on to binding off
The seed stitch texture gives these coasters a sophisticated look
Kitchen twine makes these sturdy and infinitely washable
21. Cozy Cup Knitting Pattern
Why this project?
This cozy is a great way to keep your drink warm and adds a touch of handmade charm to your cup.
Made using the garter stitch, this pattern is straightforward to follow, ensuring a satisfying knitting experience
The tutorial is designed with beginners in mind, guiding them through every step of the process, from casting on to seaming the project together
The pattern allows for creativity in terms of yarn choice and color
Cup cozies make a thoughtful gift
22. Table runner
Why this project?
Mostly because I want her dining room…😉
Straightforward way to build knitting speed
Simple rectangle
Beautiful project to show off a beautiful yarn
Endlessly customizable, make one for every season
23. Napkin rings
Why this project?
Perfect for special occasions or everyday use, these napkin rings are a quick-knit project that offers both functionality and style.
These napkin rings not only add a touch of elegance but also showcase the beauty of the seed stitch texture
The tutorial is designed for beginners
The two-toned design allows for creativity in terms of yarn choice and color combinations
24. Throw blanket
Why this project?
I was drawn to this one because it looks luscious. Maybe it's my current obsession with creamy greys.
Simple pattern uses knit and purl
Bulky yarn and large needles make this big project go fast
Yarn choice makes it washable
Instant gratification when you display this beauty over a chair or couch
25. Pillow
Why this project?
This is a beautifully textured pillow cover that's perfect for adding a touch of coziness to any living space.
The texture will make this pillow stand out in any room
Described as the "perfect meditative make for a relaxing weekend in," this project is ideal for those looking to unwind with some therapeutic knitting
Available as a video tutorial and written pattern
For baby
26. Child's hat
Why this project?
The easy knit hat tutorial by Knitting for Baby is a versatile and beginner-friendly project that caters to boys and girls aged 5-8 years.
The tutorial guides how to knit the hat for various sizes, from 3-5 years to adults, ensuring a snug fit
The pattern allows for creativity in terms of yarn choice, color, and even adding details like pom-poms
Video tutorial and written pattern available
27. Baby mitts
Why this project?
What could be more heart-warming than knitting tiny baby mitts?
These mittens are knitted flat, and if you're familiar with basic techniques like casting on, knitting, and purling, you're all set
The pattern is not only easy but also versatile, allowing for customization in terms of yarn choice and color
Step-by-step explanation
28. Baby sweater
Why this project?
It's a sweater, but very, very small – so you finish faster but can still claim you've knit a sweater!
Simple garter stitch is beginner-friendly
Your creation is sure to show up in photographs for all prosperity
Great instructions and photos
The sweater is knit in one piece and attached at the side seam – easy peasy
29. Baby booties
Why this project?
Knitting baby booties is a delightful project that results in a charming and practical gift for newborns and offers a quick and satisfying knitting experience.
The design and technique used for these booties are straightforward
The pattern provided is suitable for 0-3-month-old babies. However, Gina Michele also offers guidance for additional sizes on her website
Ideal for last-minute gifts
30. Baby blanket
Why this project?
The main pattern is beginner-friendly, and there are options to add more intricate details, allowing you to challenge yourself and grow as a knitter.
The design of the Moss Landing Blanket allows for a range of sizes, from baby stroller blankets to queen bedspreads
With its simple knit and purl pattern, this blanket is accessible to beginners
The pattern offers flexibility in terms of yarn choice and color, allowing you to create a blanket that reflects your style
Creates a reversible texture that adds depth and warmth to the design
31. Stuffed toy
Why this project?
The knitted teddy bear by Crafty Patti is an adorable toy and a wonderful way to utilize leftover yarn bits. This project is beginner-friendly, yet the result is a detailed and charming teddy bear that can be cherished for years.
The bear's design allows for customization, from its trousers to its sweater, making it a unique creation every time
You'll practice increasing, decreasing, and picking up stitches, enhancing your knitting skills
The bear is a heartfelt gift
Tips for beginning knitters
What yarns are best for beginning knitters?
For your first projects, pick a super-wash wool or worsted weight. Wool is easy to handle, forgiving, and durable. If you have to undo work or don't like what you've made, you can take it out and reuse wool yarn easily.
Lighter-weight yarns tend to tangle, and bulky yarn makes it hard to see your stitches.
Save the hand-dyed wool and exotic fibers for later.
What needles are best for beginning knitters?
Go for needles in the 8 – 10 U. S. size range (5mm – 7mm).
Tiny needles stress your hand muscles and are frustrating for beginners.
Big, chunky needles can be hard to control.
Wood needles are a good choice for beginners; the surface grips the yarn better than metal needles, making them easier to control.
What's the easiest project to start with?
I think dishcloths and coasters are ideal. You can learn a variety of stitches quickly and have a finished project to motivate you to continue.
What is the best stitch to start with?
The easiest stitch for beginners is the garter stitch.
A few other great beginner stitches are:
The stockinette stitch – knit one row, purl the next
Ribbing – alternate the same number of knit and purl stitches across the row
After you master a basic stitch or two, learn to increase, decrease, and work in the round.
That's all you need to knit dozens and dozens of projects.
Why do my hands get so tired?
You have many tiny muscles and ligaments in your hands, wrists, and forearms. These tissues need time to get strong – like your legs on a hike or your core in yoga.
Don't overdo it at first; you can create overuse injuries if you push your hands too hard.
How long does it take to knit a…?
Once you have the basic knitting stitches down and your hands have developed the muscle memory for knitting, you can knit steadily.
Here are a few benchmarks:
A simple project, like a dishcloth, can take as little as two hours.
Once you have the basic stitch down, a baby blanket takes a beginner 8-16 hours to knit.
There we have it – 31 delightful projects to kickstart your knitting!
Whether you're crafting a gift for a loved one or creating something special for yourself, the joy of knitting is in the process as much as it is in the finished product.
As you venture into these projects, don't be disheartened by any mistakes or hiccups along the way. They're all part of the learning curve.
With each completed project, you'll have a beautiful handcrafted item and a boost of confidence and a sense of accomplishment.
Related posts for needle arts
31 Quick and Easy Crochet Projects