Block printing with acrylic paint is a method of printing on fabric or paper using a block of linoleum or rubber with a design carved into the surface. The block is dipped in a mix of acrylic paint and textile medium and then stamped onto the printable material.
Materials and tools you need to make a block print
There are two materials I would suggest for creating your block printing block—either linoleum or rubber.
Linoleum
Linoleum is a hard material. A design is carved into the surface of linoleum using a sharp set of carving knives.
Working with linoleum blocks takes patience and focus. Because the surface is hard, the carving process is slow and takes a lot of knife control and hand strength. This kind of block makes a beautiful print, but may not be the best material for a beginner.
Linoleum blocks make a better print on paper. The hard surface transfers the design to the surface of the paper more accurately and crisply.

Speedball Unmounted Linoleum Printing Block – 4" x 6"
Rubber
I would suggest beginners start with a rubber block because it has a softer surface and carves more smoothly than the linoleum block.
By using a set of carving tools, a rubber block can easily be designed and carved. The caution with rubber blocks is to take care when cutting The material gives to the knife so readily, you can accidentally slip and carve more than you intended.
Rubber blocks are great for printing on fabric because they are flexible and can adjust better to the surface of the fabric, as opposed to the harder rigid linoleum block.
Soft-Kut Printing Block – 12" x 12"
Carving set
The carving set I've been using is a cheap craft-store set of knives that I got as a kid. They are duller than I would like, and someday I will upgrade to better tools. My point is, you can start with something super simple, especially when working with soft rubber.
Here is the set I started with and am still using:
This one includes a whetstone for sharpening, an upgrade since I got my set!
Gimars Upgrade 12 Set SK5 Carbon Steel Wood Carving Tools Knife Kit – Kids & Beginners with Reusable pouch
Using carving tools
Carving tools come in several different types. Each one works for various aspects of the carving process. I'll share the specific blade types I've used the most and how I've used them.
Triangle blades (multiple sizes)
This blade is V-shaped.
I use it in removing material around my design. This blade can carve a grooved surface in the negative space (the area you are removing block material from). Depending on personal taste, having some of the grooved surface show up in your print can add to the interest of the design.
I suggest having several different sizes of this blade so that you have options for getting into large or small spaces.
Semicircle blades (multiple sizes)
This blade is curved to form a half-circle. These are great blades for removing material around your design, for the negative space.
I suggest having several different sizes of this blade so that you have options for getting into large or small spaces.
Small or big oblique blade
An oblique blade is a knife with an angled sharp edge. This is an excellent knife for cutting around the outlines of your designs. I use it to separate the material/design I want to remain on the block from the area I will be removing.
This way, when I use the semicircle or triangle blade to remove the negative space areas, I don't nick into the design I wanted to keep; the pre-made cut ends the removal cut.
Using carving tools safety
Carving tools are knives in a variety of shapes and angles. They are sharp and if used improperly can cause injury. My grandpa used to drill into me and my siblings that we always needed to cut away from ourselves. The one time my brother got careless he ended up getting ten stitches on his thumb.
Cutting away from yourself is a crucial safety precaution. However, with block printing, it can be very tempting to get careless and just follow the pattern on the surface – whatever direction it's aiming.
My tip here is to move the block, not the direction you are cutting. This will also protect your wrist from getting tweaked, trying to work in a weird position that could cause stress injuries.
I want to be making things with my hands well into my wisdom years, so I try to think about these things now.
Creating a block print design
Starting with something simple and geometric is ideal for your first block print design. I started with this set of shapes that I did a straightforward design with.
From there, I was able to make something a bit more detailed like this design.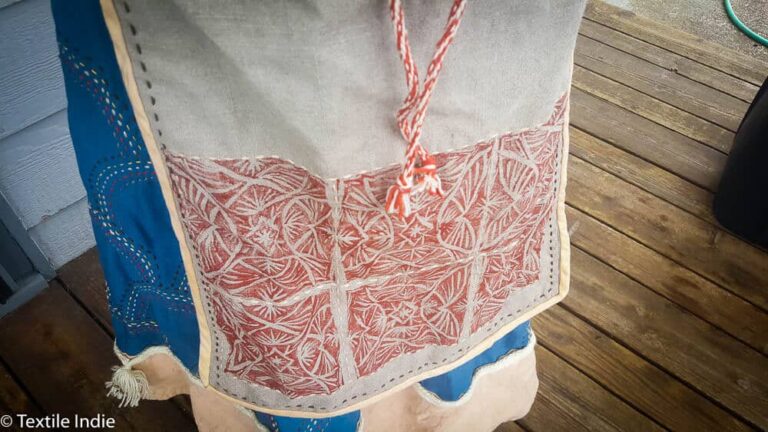 The difficulty comes in identifying which aspects of a design are negative or positive space. The negative space is that which won't be printed onto the fabric surface; it will be the fabric showing through. The positive area is the design and what you will be block printing with acrylic paint.
You can either sketch your own design and figure out which parts will be negative and which will be positive space. Or you can find block printing designs online.
I'll be using these simple geometric blocks to show you the process.
Here is a printable version of these designs you can use to make your own blocks.
How to carve a rubber block
Using a set of sharp carving tools and a rubber block, I will show you the process for carving a geometric block print. Use these directions for any design of your choice.
Print or draw your design on a piece of paper.
Cut out around the design.
Trace around the design with a thick line of pencil.
Transfer the design to the surface of your block: Place the graphite side down on your rubber surface. Using one hand hold the paper in place and use the other hand to rub the end of a pencil over the backside of the paper until the pencil lines transfer to the rubber surface. Go in and darken all the lines with your pencil.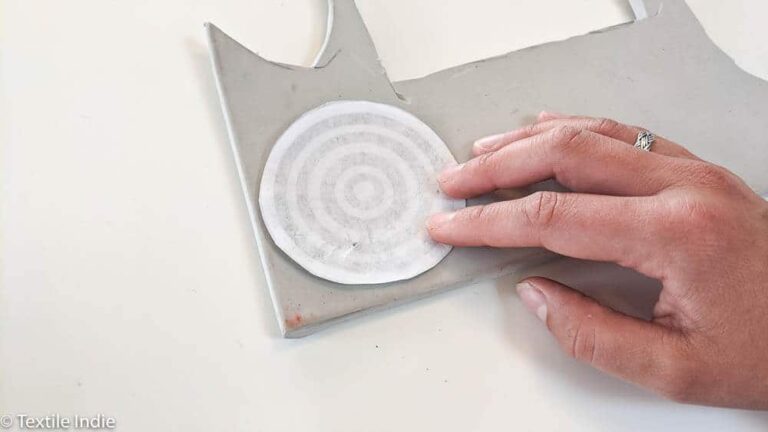 Using the oblique blade, carve around the design aspects you want to keep on the block
Begin carving away the negative spaces using the triangle or semicircle blades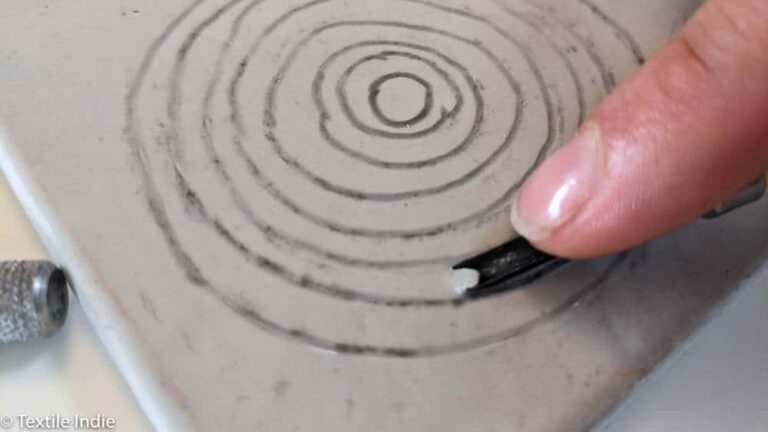 What fabrics to use for block printing
What fabric you use is purely personal preference.
Fabrics that take the clearest prints have a smooth surface and a high thread count. I've used a high-quality cotton muslin with good results as well as other evenly woven cotton fabrics.
Another fabric that would take block printing well is a smooth surface silk fabric. Because silk fabrics are so slick and smooth, be careful when laying out the material because any pull or tweak can shift the material and make the resulting print end up looking wonky.
Rougher fabrics with larger threads take a print less clearly.
Linen fabric can take a cool looking print, but it is not crisp because the threads in linen fabric tend to not be uniform making the surface not as smooth.
Wool is harder to print on because the surface of the material tends to be fuzzy, not taking the print crisply.
Before you do any block printing wash and iron your fabric so that you remove any sizing and smooth out all the wrinkles.
Acrylic paints to use for block printing
I have found that simple craft store acrylic paints work well for printing on fabric. They will need a textile medium mixed in to make them washable—more on that in a minute.
Here are some of the types of acrylic paints I have used.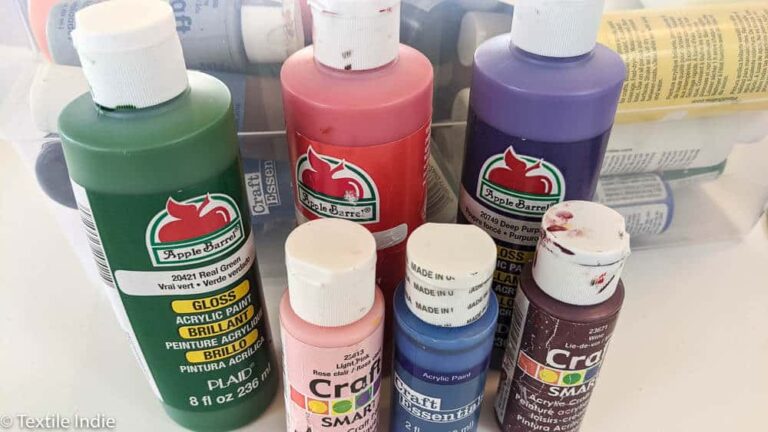 The thickness of the paint is not always as opaque when printed as I would like. To resolve this issue, I would suggest using a painter's acrylic paint that comes in tubes rather than bottles.
One of the benefits of using acrylic paint is that is very easy to clean up. And it washes out of clothing if you get splattered. This can be an issue if you want to keep the paint on the surface, like block printing. The solution is to add a textile medium.
Adding textile medium to acrylic paint
Textile medium is an additive that is a similar consistency to acrylic paint. Adding textile medium to acrylic paint converts it to fabric paint. Once dried and heat set, the paint will be wash fast and dry cleanable.
Read the instructions on the textile medium you buy as the ratios may be different. Follow the suggested amounts. I typically mix equal parts of the textile medium with acrylic paint. This can then be used for block printing.
I use this textile medium:
Liquitex Professional Fabric Effects Medium, 4-oz
Block printing process
What you'll need:
cardboard
fabric – washed and ironed
carved block
a brayer or paintbrush (two brayers are nice to have)
piece of glass or plate
acrylic paint mixed
textile medium
You've created a design, made your block, chosen your fabric, mixed your acrylic paint with textile medium, and now you are ready to start a print.
Begin by spreading your paint on a flat surface—a piece of glass, a platter, or even a paper plate work.
You'll want to work with ironed fabric so it's as smooth as possible.
Spread your fabric out on your work surface. Lay it on top of a piece of cardboard to catch any bleed through paint.
If you want to be very precise and careful, you can tape around the edges of the fabric so that it sticks to the cardboard and doesn't move.
Using a paintbrush to spread the acrylic paint mix onto the surface of the sheet of glass or plate. When you have an even coating on the paintbrush, roll it over the surface of the block design.
Carefully pick up the block and turn it face down. Estimate where you want to place the block on the fabric and then with a defined and purposeful movement place the block on the fabric and press straight down. Having a second brayer to roll over the backside of the block will help get an even print. You can also do this with your hands.
Hold the fabric down with your hand, and gently peel the block away. Don't hesitate, but also move somewhat slowly so that material doesn't lift with the block.
And there is your design!
Keep printing until you are satisfied with your fabric.
Experiment with different fabrics, thicknesses of paint, and how much paint you apply to the block until you find the combo you like.
Allowing the print to dry
Once you have completed all the printing on the fabric that you desire, allow it to sit for twenty-four hours to dry. Leave in a warm, dry location so that it dries evenly.
Once completely dry, heat the iron to a polyester setting or medium heat. Lay the printed material on your ironing board and cover with a thin press cloth. Gently and slowly run the iron over the surface of the press cloth until you have ironed over the entire piece of printed fabric.
Now your printed fabric is dry and heat set and can be washed without the paint washing out.
More resources
Have fun block printing! I would love to see what you create. Post a picture to Instagram and tag me @textileindie so I can see your creations!
Join my email list for regular updates on new posts, resources, and news on YouTube videos, courses, printables, and more.