Enter the captivating world of nature weaving, where the beauty of the great outdoors merges with the creativity of crafting.
In this blog post, we'll explore 24 enchanting nature-weaving projects that will spark your imagination and connect you with the natural world uniquely and artistically.
These projects offer a delightful blend of artistry and eco-friendliness, using materials sourced directly from the environment.
So, grab your basket, venture into the woods or your backyard, and get ready to weave a bit of the wild into your life with these inspiring and eco-conscious projects.
Nature weaving projects
1. Craspedia DIY
Craspedia DIY from Fibers and Klaus Wagener and his team from BLOOM's Deco for the designs and Danziger.
2. Branch Weaving and More Nature Weaving
3. Nature Weaving Craft
4. Nature Weaving
5. Weaving with Nature on a Homemade Loom
6. Wildlife Wednesday: How to Do Natural Weaving
7. Branch Weaving DIY – Perfect Introduction to Weaving
8. Weaving on a Rock Loom Nature Weaving Tutorial
Foraged basket weaving
9. Pine Needle Basketry
10. How It's Made – Coconut Leaf Square Basket
11. Bushcraft Containers: Basket Weaving, Clematis
12. How to Make Bramble Cordage
Nature weaving with kids
13. Get Outside and Make a Nature Loom
14. DIY Cardboard Butterfly Nature Weaving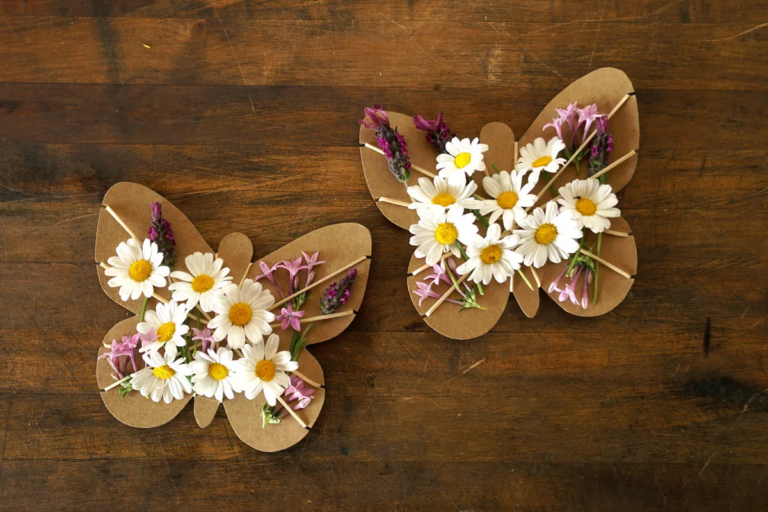 15. How to Make a Nature Weaving
16. Nature Weaving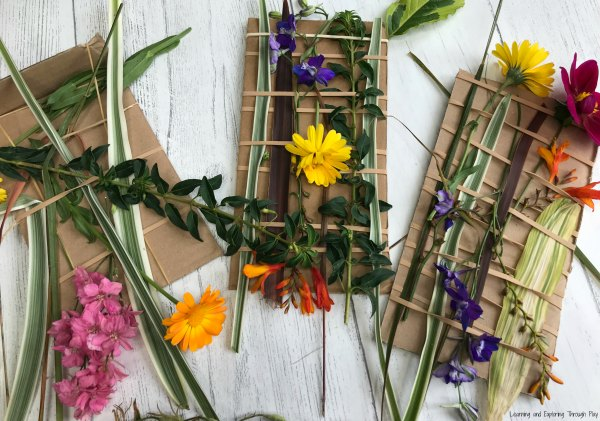 17. Nancy Zerbo Residency – Nature Weaving Loom
Preparing cordage
18. Daffodil String
19. Cordage from Natural Materials for Beginners
20. How to Make Cordage from Day Lily Leaves
21. Yucca Cordage Made Easy
22. Basic Nettle String
23. Preparing Burdock for Use in Basketry
24. How to Make Natural Cordage from Bramble
Questions about nature weaving
---
Where can I find natural materials for my weaving projects?
Nature provides a vast array of materials suitable for weaving that can be found in various places. Here are some common sources:
Local parks and forests: Explore nearby natural areas like parks, forests, or nature reserves. Fallen branches, twigs, leaves, and grasses can be collected sustainably.
Your backyard: Your garden or backyard can be a treasure trove of weaving materials. Pruned branches, vines, and flowers can often be used.
Beaches: Seashells, driftwood, and beach grasses are excellent materials for coastal-themed weavings.
Fields and meadows: Wildflowers, dried grasses, and reeds can be collected in open fields or meadows.
Countryside walks: Take a leisurely walk in the countryside to discover a variety of materials such as willow branches, wild herbs, and feathers.
Can you provide tips for sourcing and preparing materials from nature?
Here are some tips for sourcing and preparing natural materials for your weaving projects:
Sustainability: Choose materials that are abundant and sustainable in your area. Avoid over-harvesting or damaging ecosystems.
Cleaning: Thoroughly clean and dry any materials you collect to remove dirt, insects, or contaminants.
Storage: Store your collected materials in a cool, dry place to prevent mold or rot. Use containers or bags with good ventilation.
Processing: Trim, cut, or strip materials as needed. For example, remove thorns from branches or separate leaves from stems.
Drying: If your materials are green, allow them to dry completely to prevent mold growth in your finished weaving.
Treatment: Some materials may require treatment to enhance durability. For instance, soak willow branches in water before weaving to make them more flexible.
Creativity: Don't limit yourself to traditional materials. Experiment with unconventional items like feathers, pinecones, or seashells.
Are there any safety concerns or considerations when working with natural materials?
While nature weaving is a rewarding and eco-friendly craft, it's essential to be aware of safety considerations:
Allergies: Some people may be allergic to certain plants or materials. Wear gloves if you have sensitive skin or allergies.
Thorns and splinters: Be cautious when handling materials with thorns, prickles, or splinters. Wear protective gear as needed.
Insects and pests: Inspect materials for insects or pests before bringing them indoors. Freezing or heating materials can help eliminate unwanted critters.
Toxic plants: Some plants may be toxic when touched or ingested. Familiarize yourself with the local flora to avoid harmful materials.
Sharp tools: When cutting or processing materials, use sharp tools carefully and follow proper safety guidelines.
---