I want to share a technique I started using recently with fold-over elastic. I opened an Etsy shop called Love, Auntie Fiddle. I'm creating rompers, photoshoot outfits, and fun dress-up clothes for babies and children. Delving into the world of starting a small business is exciting and overwhelming all at once. There are so many things to be aware of and to explore to get better.
I've learned how to use fold-over elastic to make these children's clothes. This is using fold-over elastic to finish off the neck and armholes. It's a simple trick, and not new, but it made the edging of my little outfits look clean, fun, and kid-friendly.
Heres how to finish off the edges neckband of a romper:
Tools to use:
You'll need a sewing machine with a zigzag stitch. Regular polyester or cotton thread. Knit, or other stretch fabric. And fold over elastic.
I also like to use a walking foot for the zigzag stitch to eliminate any stretching of the sewing materials.
I am using a stretch stitch on my sewing machine, but an alternative would be to use a serger to sew all construction seams.
Sewing fold over elastic Process:
To attach fold-over elastic to the neckband, I sewed one of the shoulder seams. Using the fold line at the center of the elastic, fold the elastic wrong side facing out. The wrong side's texture blends in against the jersey knit better than the shiny side of the elastic.
Sandwich the edge of the neckline into the fold of the elastic. I like to place a pin at the start to hold everything together while I position it under the sewing machine.
Using the walking foot and a zigzag stitch set to a 2.5 stitch length, start to sew the elastic along the neck hole's edge.
As you sew, position the elastic with the fabric sandwiched between a little bit at a time so that your sewing a bit, pausing, repositioning, and then adjusting again.
As you go, give the elastic a slight pull to keep the edge of the neckband taut, this will help it lay flat against the chest when worn. If you don't add some tension to the elastic, the neck hole could become stretched out and gape when worn.
Finished Product: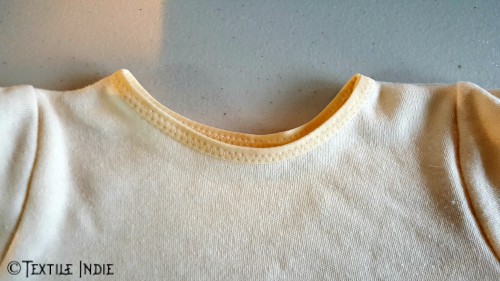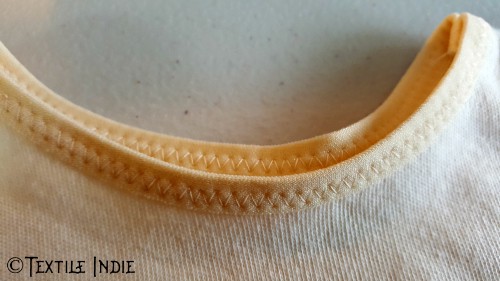 This technique is super easy, and I really like how the finished garment looks. A fun alternative to matching the color of the elastic to the garment fabric's color would be to use a contrasting color. I order my elastic from Bowtique Emilee. They have tons of different colors to choose from, and they sell it in several different length increments: by-the-yard, 5 yards, or a 100-yard roll.
This technique also works on underwear for the waistband and the leg holes.
Some other ideas for applying this technique might be swimsuits, lingerie, activewear shirts, shorts, leggings, or other baby garments.
What are some projects that you have made using fold-over elastic?
In what ways can you come up with to use fold-over elastic as an edge finish?
Interested in learning more sewing techniques?
Cutting Techniques– discussing the importance of accuracy in cutting out pattern pieces from fabric to create well-built apparel pieces.