I recently learned a new technique for cutting out clothing patterns that have totally changed how I sew. I learned this from Melinda Brein while assisting with costumes for a ballet production. See her blog at Dancing Diva Designs.
Instead of the tedious process of laying out fabric, cutting out patterns, and then pinning them to the fabric, just to unpin them in order to start sewing, this process is much smoother. I use a rotary cutter and cutting mat in place of scissors and instead of pins, I use something to weigh the pattern pieces down on the fabric.
Here are the tools I started with:
Rotary cutter
Cutting mat
The fabric I am using for my project
The pattern
Something to be used as weights. Here I used some ceramic dishes.
A sturdy surface to place the cutting mat on.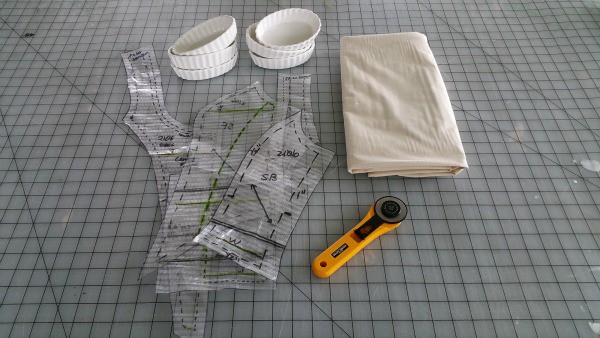 WARNING!: Don't try this without using a cutting mat or you will gouge into the surface you are working on. This might be obvious, but just in case….

I laid out the fabric on my cutting mat and arrange the pattern pieces according to the grain-line directions on the pieces. The fabric I am using here is going to be the lining of my finished garment.
Place the weights on the pattern piece to hold it in place.
Using the rotary cutter, carefully cut around the edge of the pattern piece. I found that it was best to set the weights along the edge I was working on, leaving enough room to work around. Then as I worked I moved the weights around to clear the edges.
After cutting out the pieces I then was able to remove all the weights quickly without dealing with pins. At this point, I had pattern piece markings I wanted to transfer to the fabric for easier construction later.
To transfer markings I lifted up the pattern along the lines I wanted to transfer and folded the pattern in such a way that I could see both the line and access the fabric to make the transfer.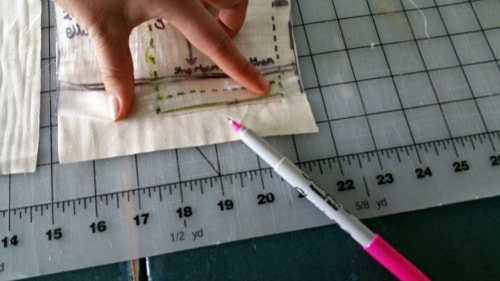 Because this is the lining of my project I transferred the marking using a permanent marker.
Here is a pattern piece that I just cut.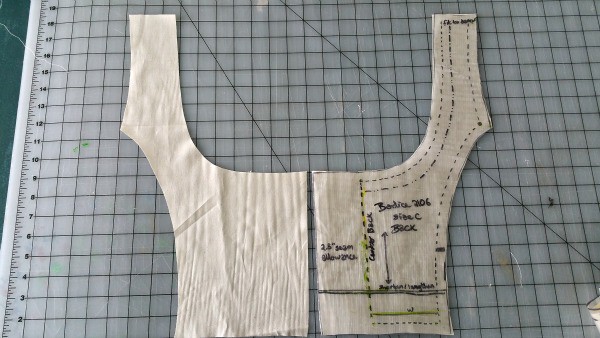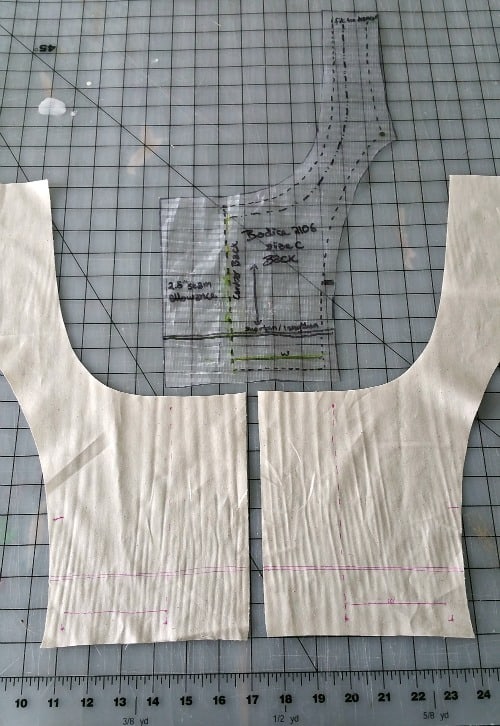 Here are the markings I transferred. Don't forget to do the markings in mirror image. If you transfer markings onto the same side of both pieces one will get sewn into the garment and you won't be able to see it.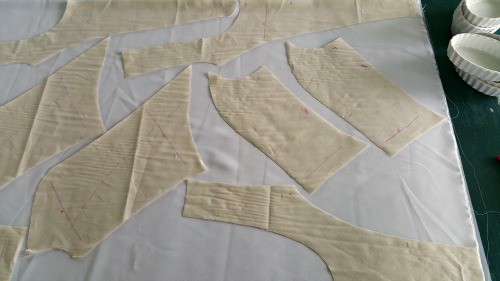 After I transferred all the markings to all the pieces of my lining, I used the lining pieces as my patterns for the outer fabric (fashion fabric). This way the lining and outer fashion fabric line up correctly. Follow the same process of placing down weights and cutting with the rotary cutter to cut these pieces out. And that's it! A quick and simple way of cutting out pattern pieces.