Things in life become a bit easier when we have built a habit. Its easier to get to the gym when you always go at a certain time. Its easier to get up at 6am when you usually get up at 6am. Its easier to remember to do something when you've created a habit of doing it.
I'd like to share eight habits that I have been incorporating into my sewing to improve projects and make my sewing process go more smoothly. They are small, basic things that may seem like a no-brainer. But they make a big impact when you are able to do them automatically.
Habit #1: Put your presser foot down after you're done sewing.

Putting your presser foot down when your finished using your machine, or even between seams is a good habit to get into. I hadn't even considered this until I worked with Cheryl Kuczek from Paradiso Designs.
The benefit of doing this is that it prolongs the life of both the sewing foot and the machine. I think it probably relaxes some tension on the machine parts. But it also keeps the foot from getting slammed down and getting worn down, damaged or if using a ceramic foot potentially broken. For extra bonus protection keep a piece of scrap fabric between the foot and the feed dogs. My sewing machine is my means of creative outlet, providing my family with custom made clothing and occasionally a project commission, so taking care of it and maintaining it are super important to me.
What does your machine allow you to do? Who do you bless with your sewing abilities?
Habit #2: Cut your threads as you go
Oh my goodness, this one is a pet peeve of mine. Getting to the end of a project and having to scour the whole thing looking for little threads to clip is not my idea of a fulfilling completed project. Instead I like to cut all my threads as I go. My Bernina sewing machine has a little thread cutter on the side that makes it handy to cut threads and I usually catch the threads from the beginning of the seam as well. However this handy little cutter sometimes leaves a bit of thread more than what I want to leave. I keep a pair of thread scissors next to my machine to clip off the end threads when the thread cutter isn't enough. Also, removing all threads from a seam you've had to rip out. Its amazing how these little threads end up sticking out of seams and being a nuisance. I've finally realized, I just have to take them out as I'm removing the seam.
Habit #3: Backstitch over previous stitches, not in a crooked line. Or shorten stitch length for tighter stitches that will hold as if backstitched.
Backstitching holds the beginning and end of a seam so that it doesn't come undone and the fabric doesn't come apart where a seam should be. One way to backstitch is to sew to the end of the fabric your sewing and then using the backstitch button sew back over your previous stitches and then sew off the fabric all the way. This works great as long as you put your backstitches right on top of the original stitches. If they go wonky and end up off the original seam or at a crazy angle it messes up how the seam will open up when ironed or in a garment.
Another way that streamlines backstitching, without actually backstitching is to shorten your stitch length to very small when you get about 1/2″ from the end of the seam. Then sew the rest of the way to the edge of the fabric. This shorter stitch acts as a "finisher" because the stitches are so tight they are unlikely to get pulled out.
Habit #4: Watch your seam allowance, no bobbing and weaving.
This happens more with beginner sewers because your still getting a feel for how the sewing machine works. But even experienced sewers will occasionally have a wiggly seam line causing their seam allowance to be inaccurate. A seam allowance that meanders from 1/4″ to 1/2″ unintentionally can have a major affect on the fit or appearance of a garment. One way that I've used when working on maintaining an accurate seam allowance is to put a piece of masking tape against the seam allowance line on the feed dog plate. My machine has numbers etched into this plate so its pretty easy to keep my seams straight. But I've worked on machines that don't have the lines labeled. Adding a piece of tape is a simple help that might save you future problems.
Habit #5: Set your stitch length before starting to sew.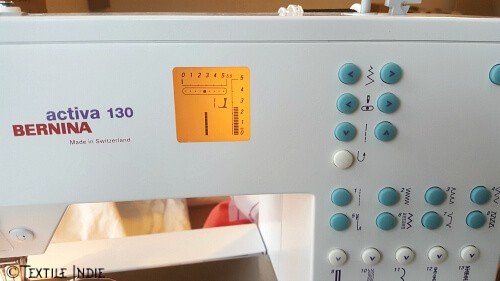 This somewhat reflects back to point #3 about backstitching. When starting out on a project perhaps you choose a shorter stitch length for the initial "backstitch" but after that short space what length of stitch should you use? Often the answer to this question has to do with the weight of fabric you are using. For instance, if you are using a heavy weight material like corduroy, canvas, or denim fabrics then your stitch length should be longer because of the amount of thread that has to go through the thickness of the layers. With a lighter weight material the stitch length can be slightly smaller. Another thing to keep in mind when choosing a stitch length is the ease of "unsewing" or taking out stitches. Not really something sewers like to think about, but planning ahead always makes it easier. I've done many projects where I used a tiny tiny stitch length and then had to seam rip it apart. The frustration caused by trying to see all those little stitches was enough to teach me to pay attention to my stitch length before starting a project.
Habit #6: Use the correct type of needle for the fabric you're using
There are specific needles available for different types of fabric. The weave and fiber content of fabrics functions best when sewed with a needle designed for that specific fabric. For example a needle for Jersey knits has a ball point tip. This tip slides between threads in the fabric so that it doesn't disturb the texture of the material by splitting a thread and causing a run. Another example would be a denim or leather needle. These needles are thicker and a heavier durability than most needles because they have to withstand puncturing through multiple thick layers of material. I've found it to be much more enjoyable when sewing with the correct type of needle. It removes some struggle and inconvenience of a broken needle, a run in the material or other needle related problems.
Habit #7: Change out your needle regularly.
One rule of thumb is to change it out after every project. However, if you are working on a large project changing it out mid project might be necessary. Needles get dull and the tips start to run down. Changing the needle out regularly will maintain a high quality seam.
Habit #8: Use the right tool for the job.
My dad is a wonderful handy man. Growing up he was always working on some sort of project around the house or for friends or family. When I was around fifteen he began building a two story addition to my family's home. He did everything by himself. If he didn't know how to do something he learned how. He asked questions, got advice, did research, figured it out. I remember getting to help him with little odd jobs occasionally. One time, as he drew to the end of the project he was putting up siding on the exterior. He needed an extra pair of hands, so I went out to hold up the board, using a lever, so that he could nail it in place at the top. From experiences like this and growing up with a dad and mom that both were do-it-yourself-ers I learned a valuable lesson. It still pops into my head regularly. In my dads voice I hear the words "Brittany, use the right tool for the job." Its a simple theory, but a richly valuable thing to practice. Using the right tool for the job means not damaging things, not struggling to jerry rig something, not hurting yourself, and is usually more affective.
Those are my tips for the moment. I hope you find them helpful, instructive and find that they really do improve your sewing projects.